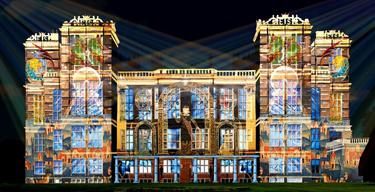 23 Jan 2023
Hardwick Hall to host stunning after-dark displays for final instalment of Shine A Light
Post Date: 23 Jan 2023
The National Trust's Hardwick Hall near Chesterfield will host two nights of stunning after-dark displays for the final instalment of Derbyshire's Shine A Light spectacular on Friday 17th & Saturday 18th February 2023.
---
---
The National Trust's Hardwick Hall near Chesterfield will host two nights of stunning after-dark displays for the final instalment of Derbyshire's Shine A Light spectacular on Friday 17th & Saturday 18th February 2023.
Tickets for the magical events are selling fast as visitors prepare to watch Hardwick's remarkable history unfold in a breath-taking display of light and sound projected against the dramatic backdrop of Bess of Hardwick's Elizabethan masterpiece.
The displays will combine cutting-edge projections, moving animations, special effects, and live music to tell the story of the jewel in Bess's crown. Witness tapestries come to life, landscapes re-form, and buildings rise and fall.
Plus, with live entertainment throughout each evening, and food and drink vendors selling treats from pancakes to Indian street food, Shine A Light promises fun for the whole family.
The displays at Hardwick Hall are the final instalment in a four-part programme of Shine A Light events that began at Cromford Mills in October 2022. The events have since thrilled hundreds of visitors at Elvaston Castle and Barrow Hill Roundhouse.

The displays are unique to each venue and visitors who watch all four chapters – and successfully spot the 'hidden animal' at each – have the opportunity to enter a prize draw to win a hamper of local produce.

Delivered by internationally-renowned Derbyshire-born video projection artists Illuminos, Shine A Light is designed to celebrate Derbyshire's rich history and cultural heritage, boost the visitor economy and extend the tourism season during the traditionally quieter autumn and winter months.

Councillor Barry Lewis, Leader of Derbyshire County Council which commissioned Shine A Light, says: "Our second season of Shine A Light has been even bigger and better and the fourth and final instalment looks set to wow audiences once more.
"What better way to spend an evening than to see our local history and heritage brought to life with a modern-day twist. An event not to be missed!"

Jo Dilley, Managing Director of Visit Peak District & Derbyshire, says: "Shine A Light has already delighted hundreds of people with magical displays that shine the spotlight on Derbyshire's rich cultural heritage. Each venue is unique, with its own story to tell, and not only do these events bring local history to life, they also support the recovery of local visitor economy businesses and offer a fantastic opportunity to enjoy an evening of entertainment with live music, food and drink. Get your tickets whilst you can!"

Shine A Light takes place at Hardwick Hall on 17th & 18th February 2023. Entry is from 17:30, with large-scale projections every 20 minutes throughout each evening. Tickets are £9 for adults and £6 per child (aged 4-16 inclusive, free for 3 and under).

For more information and to book tickets please visit: www.visitpeakdistrict.com/shine-a-light

Follow #ShineALightDerbyshire on social media.


ENDS
For all press enquiries, please contact Amy Noton at 07387 141590 or amy.noton@visitpeakdistrict.com

Notes to editors
Click here to download imagery
More information on the prize draw, including Terms & Conditions, can be found at visitpeakdistrict.com/shine-a-light.

Illuminos
Illuminos is formed by brothers Matt and Rob Vale, who for over 10 years have created visually inventive projection artworks and experiences. Their works range from large scale illumination to small scale imagery, always working to create something unique and specific to location and viewer. Their projections often combine elements of installation, pyrotechnics and music, aiming to capture the essence of a place, space or feeling as a shared moment of time.

Their large-scale projection artworks often utilise a whole building, incorporating light, sound and projection to bring a space to life.
www.illuminos.co.uk
Visit Peak District & Derbyshire

Visit Peak District & Derbyshire's mission is to develop and grow a successful and sustainable tourism economy, working closely with a wide range of partners to make the Peak District and Derbyshire the destination of choice – regionally, nationally and globally.
Visit Peak District & Derbyshire is part-funded by Derbyshire County Council.
For more information visit www.visitpeakdistrict.com/industry
Inspiration on things to see and do, and where to stay, in the Peak District and Derbyshire is available at www.visitpeakdistrict.com
About Hardwick Hall
Hardwick Hall was built by 'Bess of Hardwick', Countess of Shrewsbury, between 1590 and 1597. Bess's initials, ES, and her coat of arms, decorate the rooftop. The Hall houses a unique collection of rich sixteenth and early seventeenth century tapestries and needlework collected by Bess, and, even now, unsurpassed in Europe.
Hardwick gardens are beautifully presented in a series of courtyards, where you can move from one garden 'room' to the next to explore the herb garden, orchards and colourful borders. The Estate also has 900 acres of parkland, which is home to a variety of wildlife, circular walks and trails.
Hardwick Hall, Doe Lea, Chesterfield, S44 5QJ
www.nationaltrust.org.uk/hardwick-hall
About the National Trust
The National Trust is a conservation charity founded in 1895 by three people who saw the importance of our nation's heritage and open spaces, and wanted to preserve them for everyone to enjoy. More than 120 years later, these values are still at the heart of everything the charity does.
Entirely independent of Government, the National Trust looks after more than 250,000 hectares of countryside, 778 miles of coastline and hundreds of special places across England, Wales and Northern Ireland.
More than 24 million people visit every year, and together with 5 million members and over 65,000 volunteers, they help to support the charity in its work to care for special places for everyone, for ever.
Sign up to our newsletter
Stay updated with the latest visitor economy news, events and networking opportunities by signing up to rhe Visit Peak District & Derbyshire industry e-newsletter.