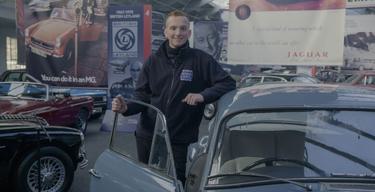 06 Feb 2023
Help Luke win VisitEngland's 2023 Tourism Superstar Award for Derbyshire and the Peak District
Post Date: 06 Feb 2023
People are being urged to vote now and help a young Derbyshire-based apprentice scoop a prestigious national Tourism Superstar Award.
---
---
He is just one of 10 finalists throughout England in the running for the prestigious award.
Last year the title was won by Matlock Farm Park's George Finlay. George was the first ever winner of the award in Derbyshire and the Peak District, and now the area has the unique opportunity to win again.
Organised by national tourist board VisitEngland and supported by The Mirror, the Tourism Superstar competition recognises the dedication and passion of those working in the tourism industry.
The winner is decided by a public vote. The competition invites members of the public to visit mirror.co.uk/travel to watch a short film created for each of the 10 finalists and then to vote for their favourite. People have just six weeks to vote and help Luke, Derbyshire and the Peak District win the award.
Luke Henshaw (18), a classic car apprentice mechanic at Great British Car Journey in Ambergate, has been shortlisted for the title of VisitEngland's Tourism Superstar 2023.
Luke has worked at the classic car visitor attraction since it opened in May 2021 following his successful application to the Heritage Skills Academy (HSA) in Bicester. He is now one of only a few apprentices in the country who are training to become qualified craftspeople and heritage professionals to ensure the appropriate conservation, repair and maintenance of historic assets.
Luke, who lives in Mansfield and attended Brunts Academy, described the apprenticeship as a 'dream come true'.
As part of his role at Great British Car Journey, Luke ensures nearly 150 classic British cars - which range in age from 1903 to 2000, are in working order. Luke also helps to keep a fleet of 38 cars maintained and fully roadworthy for the Drive Dad's Car experience.
Luke is no stranger to awards. Last year he won the Tourism Young Achiever Gold Award in the 2022 Peak District & Derbyshire Tourism Awards, organised by Visit Peak District & Derbyshire.
Delighted to be shortlisted for the Tourism Superstar Award, Luke said: "I am absolutely blown away. I love working at Great British Car Journey. Being able to combine my passion for classic cars with a career is just brilliant. I get to work on them every day, learn new skills and also talk to other classic car enthusiasts who visit. I also love that my role enables me to inspire visitors of all ages to learn more about these unique vehicles, helping them have an enjoyable time here."
Richard Usher, owner and founder of Great British Car Journey, added: "Luke is already a superstar to us. If he wins the VisitEngland title, then it will very much be the icing on the cake for all of us.
"Luke has impressed us from day one. He is keen to learn, enthusiastic and also a really personable young man who all the team enjoy working with and our visitors also enjoy talking to. He surprises many of our visitors with his knowledge of not only the cars at Great British Car Journey but classic cars in general. His youth belies his knowledge and the enthusiasm for these wonderful vehicles."
Jo Dilley, Managing Director of Visit Peak District & Derbyshire, added: "Luke is a fantastic role model and a brilliant ambassador for the tourism sector, demonstrating the rewarding careers and great opportunities available for young people in the industry. He is clearly passionate about inspiring visitors of all ages to have a memorable visit and we're delighted to see him reach the final. Now we urge Derbyshire residents, businesses and visitors alike to get behind Luke and vote!"
The winner of the award will be announced during English Tourism Week 2023 (Friday 17 - Sunday 26 March 2023).
Each of the finalists are highlighted in a short video on the Mirror website. Simply watch the video, then vote for Luke. Voting is open until midnight on 20 March 2023.
To vote for Luke Henshaw to win the 2023 VisitEngland Tourism Superstar Award visit mirror.co.uk/travel.
Ends
About Great British Car Journey
Great British Car Journey is a classic car visitor attraction which opened in May 2021.
The attraction takes visitors through a nine-stage story of the rise and demise of the British motor industry using a unique interactive device which has been created by event technology specialists Imagineear.
Great British Car Journey (GBCJ) is located at Derwent Works, Ambergate, Derbyshire, DE56 2HE.
The exhibition boasts a collection of more than 140 iconic British cars manufactured and designed in the UK between 1903 – 2000, including the classic Mini, Austin Seven, Ford Escort and the DeLorean.
Drive Dad's Car allows visitors to take a test drive with an instructor in a selection of over 35 iconic British cars, including the Austin Seven, Morris Minor, Rolls Royce Silver Spirit and Reliant Robin.
Keep up-to-date with developments at Great British Car Journey and Drive Dad's Car on social media:
Facebook – @GreatBritishCarJourney and @drivedadscar
Twitter - @car_british and @DadsDrive
Instagram - @gbcarjourney and @drive_dads_car
Book tickers to the attraction at www.greatbritishcarjourney.com
Book Drive Dad's Car driving experiences at www.drivedadscar.com
Visit the Great British Car Journey online shop at https://greatbritishcarjourney...
For further information, please contact:
Anna Melton
In the Works PR
Tel: 01246 386480 / 07837108559
Email: anna@intheworkspr.co.uk
Sign up to our newsletter
Stay updated with the latest visitor economy news, events and networking opportunities by signing up to rhe Visit Peak District & Derbyshire industry e-newsletter.