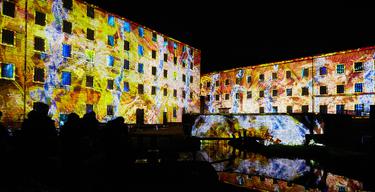 18 Oct 2022
Magical displays to 'Shine A Light' on historic Cromford Mills this half term
Post Date: 18 Oct 2022
Magical displays to 'Shine A Light' on historic Cromford Mills this half term
---
---
The historic Cromford Mills near Matlock will host two nights of magical displays combining special effects and live music when 'Shine A Light' returns for the second year this October half term.
Providing an after-dark experience for the whole family to enjoy, the events will transform Arkwright's mills with cutting-edge projections, awe-inspiring animations, and live music in the heart of the UNESCO Derwent Valley Mills World Heritage Site on 27th and 28th October 2022.
Visitors will be able to experience an illuminated woodland walk to the historic Mill Yard at Cromford before enjoying an evening of entertainment under the stars with large-scale projections, late-night shopping and food and drink including barbecue and street food, locally-sourced cheese, hot chocolate and crepes.

The displays at Cromford Mills will kickstart an exciting new programme of Shine A Light events running until February 2023 – with large-scale projections taking place at Elvaston Castle near Derby in November, Barrow Hill Roundhouse in Chesterfield in December, and the National Trust's Hardwick Hall near Chesterfield in February.
The projections are unique to each venue and visitors who watch all four displays – and successfully spot the 'hidden animal' at each – will have the opportunity to enter a prize draw to win a hamper of local produce.
Delivered by internationally-renowned Derbyshire-born video projection artists Illuminos, Shine A Light is designed to celebrate Derbyshire's rich history and cultural heritage, support local businesses and extend the tourism season during the traditionally quieter autumn and winter months.
The events have been commissioned by Derbyshire County Council following a successful pilot in 2021 when Shine A Light displays held at Chatsworth and Cromford Mills were enjoyed by more than 3,200 visitors.
Each event culminates in a large-scale projection every 20 minutes throughout each evening at:
Cromford Mills, home of Sir Richard Arkwright's first mill complex, in the UNESCO Derwent Valley Mills World Heritage Site, on Thursday 27 October and Friday 28 October from 18:30
Elvaston Castle, a Gothic Revival castle and surrounding parkland, run by Derbyshire County Council, on Saturday 19 November and Sunday 20 November from 17:30
Barrow Hill Roundhouse, the last surviving railway roundhouse in the United Kingdom with an operational turntable, on Thursday 8 December and Friday 9 December from 17:00
Hardwick Hall, an Elizabethan country house built by Bess of Hardwick in the 1500s, owned by the National Trust, on Friday 17 February and Saturday 18 February from 17:30
Tickets are £9 for adults and £6 per child (aged 4-16 inclusive, free for 3 and under).
For more information and to book tickets please visit: www.visitpeakdistrict.com/shine-a-light
Jo Dilley, Managing Director of Marketing Peak District & Derbyshire, said: "Following the success of last year's Shine A Light displays, this year's events promise to be even bigger and better, providing a magical after-dark experience for visitors and residents alike.
"Each venue has its own story to tell as part of this spectacular 'anthology' and not only do these events bring local history and their communities to life, they also offer a fantastic opportunity to enjoy an evening of family-friendly entertainment with live music, great food and drink, and late-night shopping.
"Events like this are so important as we continue to support the recovery of local visitor economy businesses and we urge people to book their tickets as soon as possible for an evening to remember."
Leader of Derbyshire County Council Councillor Barry Lewis added: "Shine A Light is a key part of our efforts to support the recovery of the visitor economy following the coronavirus pandemic and we're proud of our role in bringing these unique experiences to Derbyshire, providing excellent entertainment for tourists and residents alike.
"I look forward to seeing the return of these fantastic events to our county for a second year running."
Follow #ShineALightDerbyshire on social media.
ENDS
For all press enquiries, please contact Amy Noton at 07387 141590 or amy.noton@marketingpdd.com
Notes to editors
Click here to download imagery
More information on the prize draw, including Terms & Conditions, can be found at visitpeakdistrict.com/shine-a-light.
Illuminos
Illuminos is formed by brothers Matt and Rob Vale, who for over 10 years have created visually inventive projection artworks and experiences. Their works range from large scale illumination to small scale imagery, always working to create something unique and specific to location and viewer. Their projections often combine elements of installation, pyrotechnics and music, aiming to capture the essence of a place, space or feeling as a shared moment of time.
Their large-scale projection artworks often utilise a whole building, incorporating light, sound and projection to bring a space to life.
www.illuminos.co.uk
Marketing Peak District & Derbyshire
Marketing Peak District & Derbyshire's mission is to develop and grow a successful and sustainable tourism economy, working closely with a wide range of partners to make the Peak District and Derbyshire the destination of choice – regionally, nationally and globally.
Marketing Peak District & Derbyshire is part-funded by Derbyshire County Council.
For more information visit www.visitpeakdistrict.com/industry
Inspiration on things to see and do, and where to stay, in the Peak District and Derbyshire is available at www.visitpeakdistrict.com"
Sign up to our newsletter
Stay updated with the latest visitor economy news, events and networking opportunities by signing up to rhe Visit Peak District & Derbyshire industry e-newsletter.