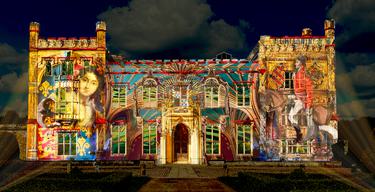 25 Jul 2023
Tickets on sale: Shine A Light set to wow for third year
Post Date: 25 Jul 2023
Tickets are now on sale for this year's Shine A Light extravaganza which will see stunning displays of light and sound return to Derbyshire for the third year running.
---
---
Providing fun and entertainment for the whole family, Shine A Light brings to life some of Derbyshire's heritage and history of innovation in spectacular large-scale moving animations.
Projections will return to the historic Cromford Mills in the UNESCO Derwent Valley Mills World Heritage Site, near Matlock, on 26th and 27th October 2023, and to the impressive Elvaston Castle near Derby on 8th, 9th and 10th December 2023.
In addition to the large-scale projections every 20 minutes throughout each evening, visitors will also be able to enjoy entertainment and food and drink for a fun-filled experience to remember.

This year's event at Cromford Mills will include a brand-new display for 2023 reflecting on the Mills' transformation and rebirth since Sir Richard Arkwright's time – celebrating the return of waterpower, today's community, and the remarkable nature of the wider Derwent Valley Mills World Heritage Site.
At Elvaston Castle, there will be Christmas carols, activities, and festive market stalls, alongside the return of mesmerising projections telling the romantic story of Elvaston's creation.
Delivered by internationally-renowned Derbyshire-born video projection artists Illuminos, Shine A Light is designed to celebrate Derbyshire's rich history and heritage, extend the tourism season and boost the visitor economy.
Derbyshire County Council has commissioned the events following successful displays in 2021 and 2022 which were enjoyed by thousands of visitors.
Each event culminates in a large-scale projection every 20 minutes throughout each evening at:
Cromford Mills, home of Sir Richard Arkwright's first mill complex, in the UNESCO Derwent Valley Mills World Heritage Site, on Thursday 26th October and Friday 27th October from 18:00
Elvaston Castle, a Gothic Revival castle and surrounding parkland, run by Derbyshire County Council, on Friday 8th December, Saturday 9th December and Sunday 10th December from 17:00
Tickets are £10 for adults and £6 per child (aged 4-12 inclusive, free for 3 and under). Family tickets are priced at £28 (two adults and up to three children).
For more information and to book tickets please visit: www.visitpeakdistrict.com/shine-a-light
In addition, a unique Shine A Light event will take place at Derby's Guildhall Theatre during Derby Festé on Friday 22nd and Saturday 23rd September 2023. To celebrate 25 years of the twinning link between Derbyshire and Toyota City, Illuminos are creating two paired video projection artworks; the first created specifically for the Guildhall Theatre in Derby, and the second for Kojaku-ji Temple in Toyota City, Japan.
As Japanese nightingales soar and sing, the façade of the Guildhall Theatre will come alive with the beauty and vibrancy of Toyota City. Golden maple leaves will blend with Obara Washi paper, shared histories of weaving and manufacturing will play out, and the exchange of music, culture, education, business and sport across 25 years will be revealed. This project is part-funded by the Great Britain Sasakawa Foundation and the displays at the Guildhall Theatre will be free to attend.
Derbyshire County Council Leader and Cabinet Member for Strategic Leadership, Culture, Tourism and Climate Change Councillor Barry Lewis says: "Shine A Light is a truly unique experience offering a great evening out for all the family.
"We're excited to be bringing a brand new display to Cromford this year as well as returning to Elvaston and a special appearance set to wow the crowds at Derby Feste to celebrate our partnership with Toyota City.
"We're proud to be able to help support these unique experiences which will provide excellent entertainment for tourists and residents alike."

Jo Dilley, Managing Director of Visit Peak District & Derbyshire, says: "Shine A Light has thrilled thousands of visitors over the past two years and we're looking forward to another successful year of events at local heritage attractions.
"Each venue has its own story to tell and not only do these large-scale projections bring local history and their communities to life, they also offer excellent entertainment for tourists and residents alike as the nights draw in.
"Events like this are vital as they help to protect, preserve and showcase Derbyshire's special historical and cultural sites – and we urge people to book their tickets as soon as possible for an experience to remember."


ENDS
For all press enquiries, please contact Amy Noton at 07387 141590 or amy.noton@visitpeakdistrict.com
Notes to editors

Illuminos
Illuminos is formed by brothers Matt and Rob Vale, who for over 10 years have created visually inventive projection artworks and experiences. Their works range from large scale illumination to small scale imagery, always working to create something unique and specific to location and viewer. Their projections often combine elements of installation, pyrotechnics and music, aiming to capture the essence of a place, space or feeling as a shared moment of time.

Their large-scale projection artworks often utilise a whole building, incorporating light, sound and projection to bring a space to life.
www.illuminos.co.uk
Visit Peak District & Derbyshire

Visit Peak District & Derbyshire's mission is to develop and grow a successful and sustainable tourism economy, working closely with a wide range of partners to make the Peak District and Derbyshire the destination of choice – regionally, nationally and globally.
Visit Peak District & Derbyshire is the lead partner of the Visit Peak District, Derbyshire and Derby Local Visitor Economy Partnership (LVEP), in collaboration with Visit Derby.
Visit Peak District & Derbyshire is part-funded by Derbyshire County Council.
For more information visit www.visitpeakdistrict.com/industry
Inspiration on things to do and where to stay in the Peak District and Derbyshire is available at www.visitpeakdistrict.com
Sign up to our newsletter
Stay updated with the latest visitor economy news, events and networking opportunities by signing up to rhe Visit Peak District & Derbyshire industry e-newsletter.