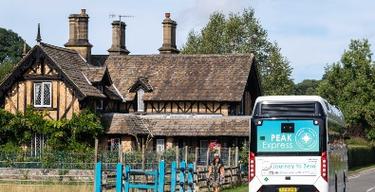 08 Sept 2022
Zero carbon tourist transport network to be trialled in Britain's original National Park
Post Date: 08 Sept 2022
A pioneering trial is taking place in the Peak District National Park where EV and hydrogen vehicles will run together between multiple destinations and attractions.
---
---
A pioneering trial is taking place in the Peak District National Park where EV and hydrogen vehicles will run together between multiple destinations and attractions.
The trial for 'PEAK Express' will finish on 16th September and is a collaborative effort between attractions and transport operators.
The trial is led by the Gateway at PEAK, a major new tourism resort in Chesterfield which has planning for 2,800 carpark spaces and 5,000 overnight beds.
Stakeholders in the Peak District and Chesterfield are coming together to deliver a pioneering trial with the ambition of creating a zero-carbon transport system to access Britain's original National Park.
The trial of PEAK Express at the PEAK Resort will make it even easier – and cleaner – for visitors to experience the Peak District from neighbouring destinations like Chesterfield, helping to reduce the number of car journeys in the area.
It's the first time EV and hydrogen vehicles have been trialled together as the project aims to explore alternatives to fossil fuels and gather feedback on customer experience, with a vision for PEAK Resort to become a world-leading beacon for sustainable tourism.
Currently 85% of visitors to the Peak District arrive by car and with interest in the great outdoors and the staycation market booming, the numbers are set to increase. Regional stakeholders are keen for more diverse groups to access the park and to grow the local economy through tourism, whilst keeping carbon emissions low, protecting the park's biodiversity and supporting local communities.
The trial route connects eight key locations and attractions in Derbyshire including Chesterfield Train Station, which has strong UK-wide connections; Chatsworth, home of the Duke and Duchess of Devonshire; and the Gateway development, which will act as a hub for PEAK Express when it is due to open in 2025.
Once fully operating, PEAK Express at the Gateway alone aims to remove 500,000 visitor journeys from the National Park, reducing CO2 emissions by 3.6 million kg pa and providing a national exemplar of sustainable visitor economy growth. The long-term ambition is to see multiple hubs located around the Peak District National Park boundary.
Andrew McCloy, Chair of the Peak District National Park Authority, said: "We are delighted to be a stakeholder for this ground-breaking trial. Protecting the National Park for future generations and developing more sustainable ways for people to visit is high on our agenda. The PEAK Gateway site outside the National Park is an excellent location for a transport hub. The Peak Express service is a commitment to net-zero and will connect more of the National Park's attractions without the need for a car, making them more accessible and spreading out the economic benefits of tourism."
Jo Dilley, Managing Director of Marketing Peak District & Derbyshire, the area's official destination management organisation, said: "We're delighted to support the trial of the PEAK Express which signals a hugely promising step forward towards our vision of making the Peak District and Derbyshire a world-leading destination for sustainable tourism. Reducing car journeys is one of our key aims, but to do this we must be able to offer visitors a great alternative. The PEAK Express is a fantastic initiative for our area, and as highlighted in our new Sustainable Tourism Plan, the growth of green tourism will play a vital in role in supporting our local visitor economy and ensuring its long-term success."
Andrew Lavery, Chief Executive of Chatsworth a key attraction on the route, said: "Derbyshire and the Peak District are world-class destinations for domestic and international tourists, and we are thrilled to be part of this trial. Working with partners we are committed to reducing car journeys and supporting and promoting a more sustainable way of getting to and from the Peak District. There's also a wonderful connection with hydrogen technology and Chatsworth – Henry Cavendish discovered hydrogen in 1766 and so, this venture is very interesting."
John Milligan, CEO of Milligan developers of the Gateway added; "The PEAK Resort site has been reclaimed from opencast, rewilded and we are investing in its future. PEAK's proposition emulates the internationally successful ski resort model, providing a mixed range of hospitality, accommodation, retail, wellness and education facilities all served by a zero-carbon mobility service connected to 1,600 miles of trails and world class attractions in the Peak District National Park.
"Milligan has been developing iconic destinations for over 20 years. Our skills lie in curating the right mix of uses which will serve the community and visitors in a sustainable way bringing long term value. This trial is part of the development's journey to zero and marks an important milestone for Gateway and the National Park."
The trial has been running since 5th September and will finish on the 16th. The results will be published at the beginning of November. PEAK Express is planned to be fully operational as part of the Gateway at PEAK Resort, due to open in Spring 2025.
ENDS
High resolution image attached: Caption: 'A hydrogen bus is put through its paces on the Chatsworth Estate.' (no credit needed)
Key contact:
Tarah Gear – Head of Marketing at Milligan
Tarah@milliganltd.com
07870 564546
Notes to editors:
About The Peak District National Park Authority
As the UK's original national park created in 1951, the National Park Authority continually strives to be as pioneering today as those first founding individuals tasked with caring for the area over 70 years ago. With tackling climate change a cornerstone to current strategies, the Authority has already reduced carbon emissions across its direct operations by around 50% in recent years. This has been achieved across projects as varied as biomass boiler heating, solar energy generation at several properties and transitioning to an increasingly EV-supported vehicle fleet. The Peak District is also home to perhaps the most ambitious upland habitat restoration project in the country – the Moors for the Future Partnership, which has invested millions into landscape improvements supporting carbon storage in the Pennines over the last two decades. The Authority continues to support sustainable and active travel initiatives with local stakeholders across the region and manages over 35 miles of accessible, traffic-free multi user trails including the popular Monsal Trail.
About Marketing Peak District & Derbyshire
Marketing Peak District & Derbyshire is the area's official destination management organisation. Its mission is to develop and grow a successful and sustainable visitor economy, working closely with a wide range of partners to make the Peak District and Derbyshire the destination of choice regionally, nationally and globally.
Marketing Peak District & Derbyshire has created a Sustainable Tourism Plan in partnership with the Peak District National Park Authority and The National Forest, highlighting its goals to minimise the environmental impacts of tourism by promoting active and sustainable travel, extending the visitor season, educating tourism businesses, and working with partners to create a prosperous visitor economy where environmental responsibility is intrinsically linked with business success.
About Chatsworth
Located within the Peak District National Park, Chatsworth is home to the Devonshire family. It comprises a Grade I listed house and stables, a 105-acre garden, a 1,822-acre park, a farmyard and adventure playground, and one of Europe's most significant private art collections.
Chatsworth is also a registered charity. The Chatsworth House Trust was established in 1981 to look after the house, collections, garden, woodlands and park for benefit of everyone. Every penny of visitor admission income goes directly to the Trust.
Chatsworth plays an important role in the local community as a thriving cultural and educational destination, a nationally important historic landscape, and a working estate that operates with a mindful approach to the environment and sustainability.
About Milligan and Birchall
Milligan is an innovative, agile and experienced real estate developer. For nearly 20 years Milligan has delivered inspiring leisure, retail and mixed-use developments across the UK, Spain and Portugal. The Milligan approach is to balance the needs of people, planet and purpose, providing lasting value for communities and investors by pushing boundaries, being creative, innovative and collaborative – creating places where communities and business can thrive.
Milligan has developed, asset-managed or partnered on properties valued at more than £5bn in destinations such as London, Liverpool, Manchester, Birmingham, Barcelona, and Bilbao and operated the retail and leisure at Camden Lock Market.
Milligan are currently working with Local Authorities in Ashford, Chesterfield, Sunderland, and Swansea on regeneration projects, with several Asset owners on the repurposing of shopping centres and with John Lewis on its BTR strategy.
In 2020, Milligan formed a JV with Birchall Properties, creating PEAK Gateway Properties which will develop the UK's first national park Gateway on the Eastern boundary of the Peak District.
www.milliganltd.com

Sign up to our newsletter
Stay updated with the latest visitor economy news, events and networking opportunities by signing up to rhe Visit Peak District & Derbyshire industry e-newsletter.