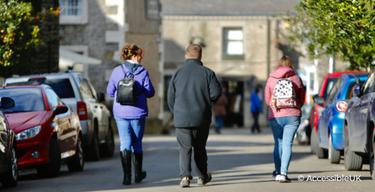 Accessible Castleton: Autism-friendly places to visit and sensory opportunities
The village of Castleton offers many sensory delights and autism-friendly activities.
---
---
The village of Castleton in the Peak District offers many sensory delights for visitors with autism, and the following places can provide a great experience for visitors with additional needs:
Autism Friendly places to visit in Castleton
Castleton Coffee Co. – Fresh coffee being brewed, as well as freshly baked food items.
Blueberry Café – A charming cafe with a private room separated by a curtain, which can be used on request.
St Edmund's Church – An escape passageway from the busy Cross Street, into the churchyard can be found opposite 1530 Restaurant. Some incredible birdsong can also be heard in this area.

Castleton village playground – A quiet area, away from the busy village.

Castleton village square – An area that is set back from the main road through Castleton and provides a quieter space to retreat to.
Peak Hotel – Many areas in the venue can be made quieter via a selective speaker system.

Rose Cottage Café and Tearoom – There is an enclosed garden to the rear, away from the noisy road and busy village environment.

Ye Olde Nags Head – There is an additional dining room which is closed to the public Monday to Friday, and can be requested for use if people require a quiet space to escape the busy pub environment.

Blue John Gems – This shop is quiet during the mid-week and contains lots of sensory toys.

The Castle has many different areas within the pub, so quiet spaces can usually be found on weekdays, but this may be more difficult on the weekends when it is very busy. There is also a garden out the back which provides a quiet space away from the busy pub.
Losehill House Hotel and Spa is just a short drive outside of Castleton, is set in tranquil countryside surroundings, and has a private dining room which seats up to 12 people and can be booked in advance.
Newfold Farm Café, situated in Edale, is set within a countryside environment on a campsite and is a wonderful space where visitors should be able to find a quiet corner inside or out.
Sensory Experiences in Castleton
Castleton Coffee Co. – Smell and taste fresh coffee being brewed, as well as freshly baked food items.

Castleton Fish and Chips – Salt, vinegar and traditional fish and chips being fried.

Castleton is renowned for the many pubs with crackling fires, warm and cosy environments and traditional décor, cask ales and pub food and drink.

Dolly's Tearooms – Homemade cakes and freshly made food.

ASD Blue John Workshop and Jewellers – Blue John Jewellery can be touched on request.

Silver & Stone Shop – Visitors can feel the tactile jewellery, crystals, minerals, and rocks etc.

Castleton Maid (Gallery Ice) – There are many sweet treats made on site e.g., fudge and candy floss.

The George – There is woodfired pizza and views of Mam Tor.

Swiss House Bar and B&B – There are local real ales and mulled wine served.

Peveril Tearoom – Freshly baked cakes, scones, and meals.

Rose Cottage Café and Tearoom – Freshly cooked food throughout the day.

Cheshire Mews – Peveril holiday property: There is fresh hotel-quality linen and stunning views of Mam Tor in a tranquil environment.

Ye Olde Nags Head – Freshly cooked pub food, local ales and beers and a roaring fire.

Blue John Gems – There are many different merchandise and toys with different textures, as well as stones, gems and fossils which can be touched.

Blue John Craft Shop – Visitors can touch the minerals, rocks, and stones e.g., Blue John Stone.

The Castle has lots of different drinks to taste (local gins, local cask ales and fine wine).

Losehill House Hotel and Spa offers many sensory delights including the spa treatments, local produce, and fine dining (the restaurant holds an AA Rosette for culinary excellence). It also has stunning views and provides Noble Isle products in bathrooms.

Newfold Farm has fresh coffee, woodfired pizzas and local ales, with great views of the countryside. There is also a log-burning stove and a very welcoming atmosphere.
This blog was created for the Accessible Castleton project, which was delivered by AccessibleUK and was funded by the Peak District National Park Authority via Defra's 'Access for All' programme.
Sign up to our newsletter
Receive the latest news, special offers, ideas and inspiration straight to your inbox by signing up to the Visit Peak District & Derbyshire e-newsletter.