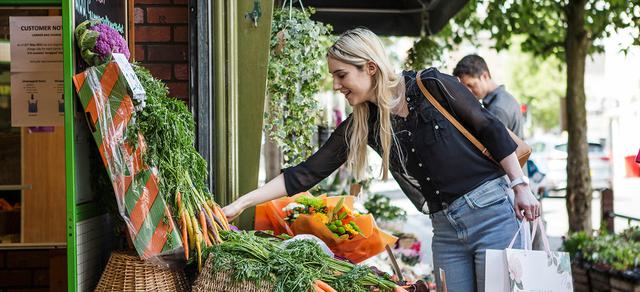 Shopping
Our welcoming market towns are bursting with independent shops, fantastic markets and fine local food and drink.
Although most famous for its gorgeous countryside, the Peak District and Derbyshire also has lots to offer on the retail therapy front. Whether you choose to shop on one of Derbyshire's bustling high streets or at a local market, you're bound to find what you're looking for, and perhaps some lovely things that you didn't even know you needed!
Featured Shopping Businesses
Featured
Business
Visit an underground wonderland of stalactites and stalagmites, rocks, minerals and fossils. Home of the unique mineral Blue John stone
Open today: 10:00am - 4:00pm
---
Featured
Business
Peak Village is nestled in the heart of the Derbyshire countryside in the picturesque village of Rowsley, just a stone's throw from Chatsworth House…
Open today: 10:00am - 5:30pm
---
Featured
Business
Established in 2016, White Peak Distillery is the first full-scale, craft distillery in the Peak District region.
Open today: 10:00am - 5:00pm
---
Find accessible & sustainable businesses
Let us know what services you require so we can show you only the results that meet your needs.
Sign up to our newsletter
Receive the latest news, special offers, ideas and inspiration straight to your inbox by signing up to the Visit Peak District & Derbyshire e-newsletter.