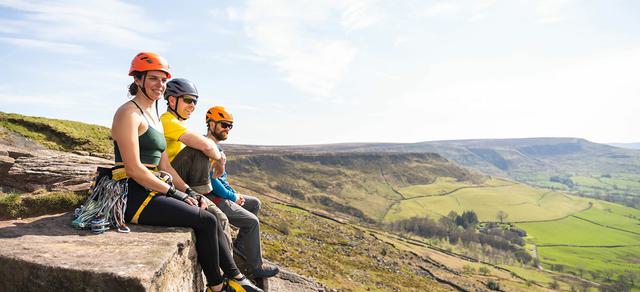 Nature & Outdoors
Connect with nature and get away from it all in Britain's original National Park.
Connecting to nature is deeper than just spending time outside; it is about feeling part of the natural world and not separate from it. Whether you're looking for outdoor activities such as walking, climbing and caving, or somewhere to switch off and relax after a day of exploring, the Peak District and Derbyshire is the ultimate base for a nature inspired holiday.

Taking a walk or cycle ride around one of Derbyshire or the Peak District's reservoirs such as Carsington Water, Tittesworth Reservoir, Ladybower Reservoir or Derwent Reservoir, is a lovely way to spend a day. With their flat surfaces and easy-going, level routes, they can provide the perfect place for a circular waterside walk.

You'll be spoilt for choice with lots of hills to climb and dales to explore too, with crystal-clear rivers at iconic beauty spots such as Lathkill Dale and Dovedale attracting visitors from near and far.

A walk along one of the Peak District or Derbyshire's canals or rivers are often full of interesting local wildlife, beautiful views and more often than not they come with a rich history too. As well as providing peaceful tranquil and laid-back walks, rivers and canals in the Peak District and Derbyshire also have connections to the Industrial Revolution.

Start planning your nature inspired adventure today.
Featured Nature & Outdoors Businesses
Featured
Business
Darwin Forest is an award winning 5 star lodge holiday park which is set in 47 acres of stunning woodland. The luxury lodges are perfect for spending…
Open today: 8:30am - 8:00pm
---
Featured
Business
Callow Hall is the first hotel from Wildhive, a new boutique hospitality brand deeply rooted in nature. Surrounded by 35 acres of wild open space, it…
Open today: 8:30am - 8:00pm
---
Featured
Business
Take a cable car flight to the Heights of Abraham 60-acre hilltop park, with cavern tours, exhibitions, adventure play and much more.
Open today: 8:30am - 8:00pm
---
Nature & Outdoors Itineraries
Taking in some of the best views and most picturesque places in the Hope Valley, this varied tour would make an excellent weekend or midweek break.
---
Take in dramatic scenery, quaint villages and some of the Peak District's most iconic attractions along the Hope Valley Line between Manchester…
---
Sign up to our newsletter
Receive the latest news, special offers, ideas and inspiration straight to your inbox by signing up to the Visit Peak District & Derbyshire e-newsletter.