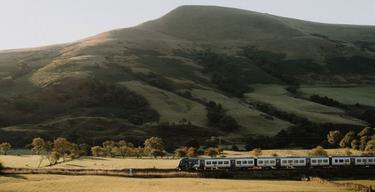 Getting here
The Peak District and Derbyshire offers a world away that's not far away – right at the heart of England.
The Peak District and Derbyshire is surrounded by rolling countryside, but it's also easy to reach by bus and train from all corners of the country.

Why not enjoy a more peaceful pace of travel and leave the car at home to explore using our excellent public transport network, so that you can sit back and soak up the spectacular views.

Travel at your leisure. Admire unforgettable views from a train or bus, get close to the action by bike or on foot, and see the Peak District and Derbyshire in a new light on a car-free adventure.

In this section you'll find helpful information on getting here, travelling around once you are here, and public transport in the Peak District and Derbyshire.
Sign up to our newsletter
Receive the latest news, special offers, ideas and inspiration straight to your inbox by signing up to the Visit Peak District & Derbyshire e-newsletter.