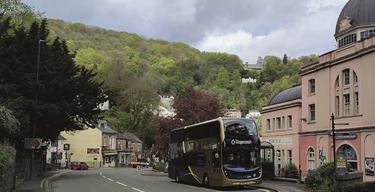 Travelling by bus
Whether you're visiting family-friendly attractions, historic sites or charming towns and villages, the bus is a hassle-free way to travel.
Sit back, relax and explore the Peak District and Derbyshire by bus.

Discover some of Derbyshire's most beautiful market towns, and find great places to eat, drink and shop on route.
Check out our great itineraries below for inspiration of places to explore, including the Peak District's iconic Hope Valley, and the charming market towns of Matlock and Bakewell.
Enjoy your car-free adventures in the Peak District and Derbyshire!
Bus information for the Peak District & Derbyshire
Sign up to our newsletter
Receive the latest news, special offers, ideas and inspiration straight to your inbox by signing up to the Visit Peak District & Derbyshire e-newsletter.