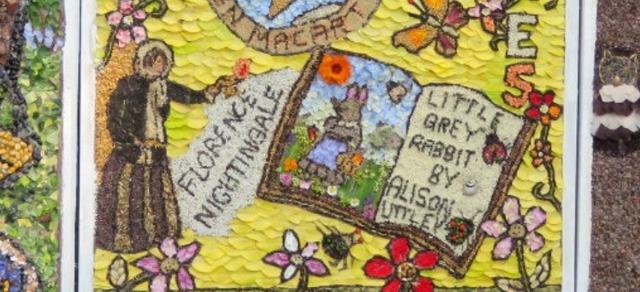 Well Dressings
Discover the unique custom of Well Dressing each year from May to September in the Peak District and Derbyshire.
What are Well Dressings?
If you're lucky enough to visit the Peak District and Derbyshire between May and September, you'll have a very good chance of seeing one of the area's most unique local customs. Well Dressings are works of art created by hand using natural materials such as petals and seeds by groups of dedicated volunteers.
Mystery surrounds the exact source of this ancient tradition – believed to have been brought to the area by the Romans or the Celts, to give thanks for the county's fresh water springs. Well Dressing is unique to the Peak District and Derbyshire area, and more than 80 towns and villages proudly display their floral masterpieces next to wells and water features throughout the spring and summer.
Teams of villagers create intricate mosaics using natural materials such as leaves, moss, flower petals and even coffee beans, on a bed of rich, moist clay. Each one can take anything up to a week to make. Some well dressings can be viewed 'in the making' before they go on show. Watching a well dressing being created is an intriguing and relaxing experience, as well as a great excuse to explore our fascinating towns and villages.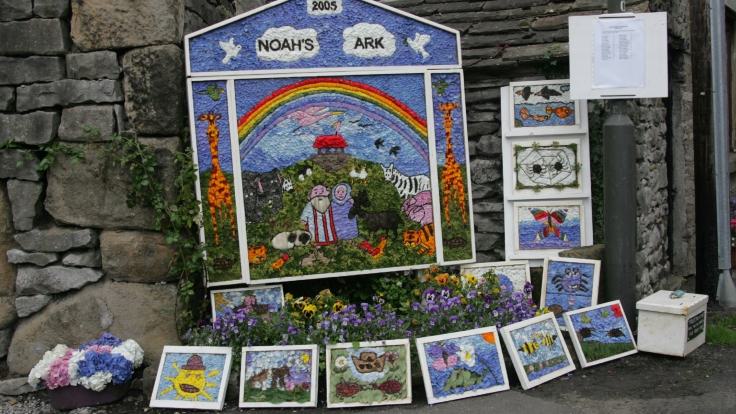 How are Well Dressings made?
The process begins by building a large wooden frame upon which to create the image. This will then be positioned over the well or spring once completed. First, the makers get fresh clay, 'Puddle', or knead the clay so it's squishy and soft and pack this into the frame, smoothing it out until it looks freshly plastered.
The image can then be 'drawn' into the clay to create an outline. Next, the makers 'colour in' the design as if painting by numbers using natural materials. Neat rows are created, rather like roof tiling, with the row above slightly overlapping the one below to allow rainwater to run off without damaging. Finally, all the boards are pieced together to create one amazing design to be admired!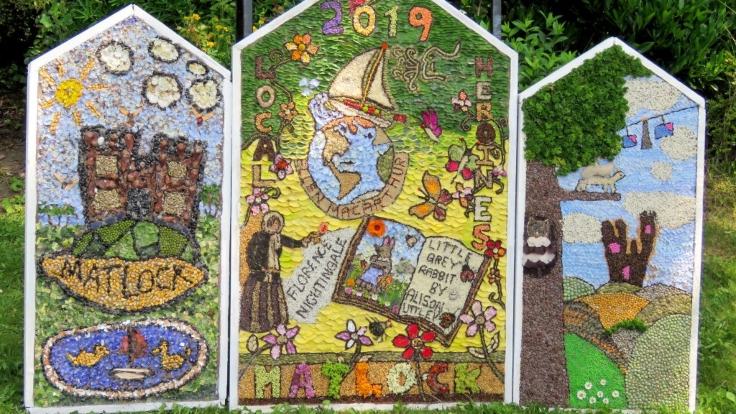 Where to see Well Dressings in the Peak District & Derbyshire
All that's left to do is throw a party! Most towns and villages hold a blessing ceremony followed by a carnival or festival, bringing out the entire community. Go along and experience for yourself a true piece of Derbyshire tradition. Be quick though, well dressings will only last around a week before the clay starts to dry and crack!
Well Dressings can be found in most towns and villages in the Peak District and Derbyshire between the months of May to September. Below you'll find a list of dates of the Wells Dressing week, but also dates and details of when you can go along and watch these extraordinary pieces of art being constructed, you might even be able to lend a hand too! This list will continually update as we receive new dates from the organisers, so keep checking back, or contact one of the Tourist Information Centres to ask for a leaflet.
Submit an event
Do you organise an event in the Peak District and Derbyshire? If so, please submit the details of your event here for the chance to see it published on our What's On page free of charge.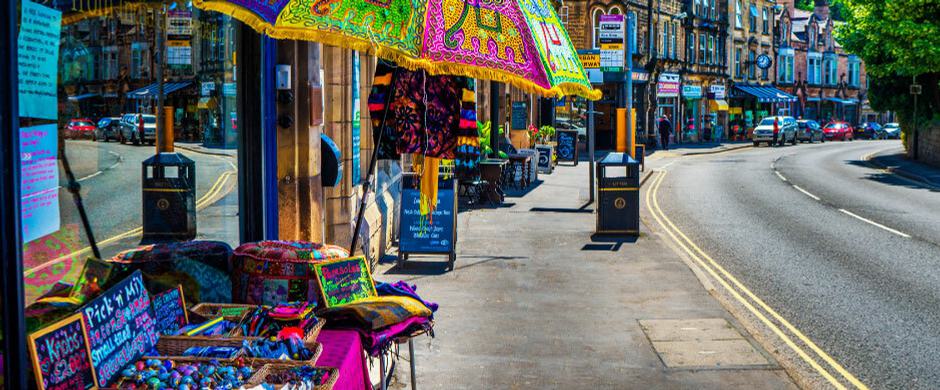 Sign up to our newsletter
Receive the latest news, special offers, ideas and inspiration straight to your inbox by signing up to the Visit Peak District & Derbyshire e-newsletter.