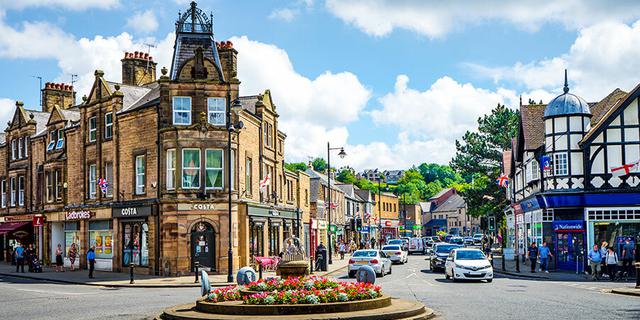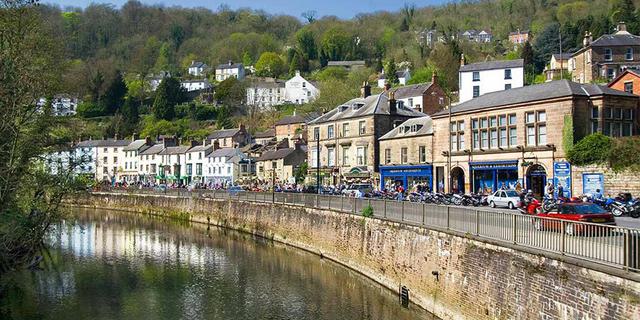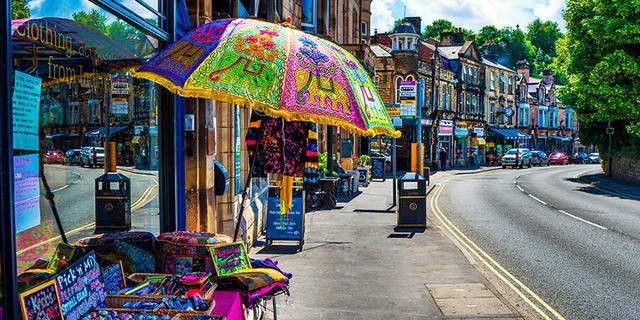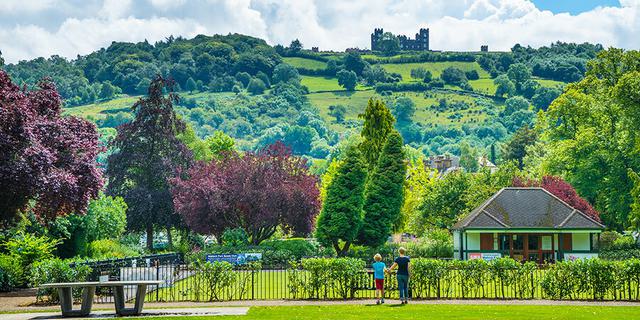 Location
Welcome to Matlock & Matlock Bath
Two of the most popular places to visit in Derbyshire, occupying a beautiful position in a limestone valley.
Things to do in Matlock & Matlock Bath in the Peak District & Derbyshire
A visit to the neighbouring towns of Matlock and Matlock Bath should feature in everyone's itinerary for a Derbyshire day out! They occupy a beautiful position in a stunning limestone valley and both offer a wealth of attractions for the whole family.
Matlock
Once famed for its hydro and spa treatments, Matlock's central location, scenic surroundings and public transport links make it a popular base for exploring the Peak District and Derbyshire.
Pioneering industrialist John Smedley developed the attractive market town as a fashionable spa in the 19th century, and his legacy lives on in buildings such as Smedley's Hydro (now the offices of Derbyshire County Council) and Gothic-style Riber Castle. His name is also familiar to customers of world-renowned knitwear manufacturers John Smedley at nearby Lea Bridge, who export high-quality menswear and womenswear across the globe.
There are plenty of things to do in Matlock. In the heart of Matlock sits Hall Leys Park with its boating lake, riverside walks, tennis courts and skateboard park. In Matlock town centre there are pretty streets full of small, independent shops, and a host of cafés, pubs and restaurants in which to relax.
See below for all the Matlock attractions and a suggested Matlock itinerary.
Matlock Bath
Just a mile and a half to the south, Matlock Bath is a lively town that was developed as one of England's first true tourist destinations. It has been attracting visitors since the late 17th Century, and by the 19th Century it was a place for the finest in society to be seen, including royalty. Lord Byron dubbed it 'Little Switzerland' on account of its magnificent views and steep, wooded hillsides. Matlock Bath is just as much fun to visit today. It has a long high street lined with quirky shops, cafés, amusement arcades and visitor attractions, as well as peaceful paths for shady strolls alongside the River Derwent.
A popular destination for families, bikers and fun seekers, there are plenty of things to do and see in Matlock Bath. Take a cable car flight to the Heights of Abraham, a historic 60-acre hilltop estate, and enjoy cavern tours, exhibitions, adventure playgrounds and much more, plus regular special events throughout the season.

There is wide a variety of accommodation available for overnight stays and with good transport links it is a popular destination for a day trip. The Matlock Bath Illuminations are a popular feature from September to the end of October, when the riverside is decorated and the cliffs floodlit to create a magical scene of colour. At weekends during the Illuminations there are parades of decorated boats, entertainments and, on certain dates, firework displays.
The Riverside Gardens and Lovers Walks along Giddy Edge offer gentle strolls away from the crowds, and nearby High Tor affords spectacular views from its lofty summit.
FAQs
Is Matlock worth visiting?
There are plenty of things to do in Matlock, Matlock highlights include the award-winning Hall Leys Park as well as a myriad of independent shops, bars and restaurants.
Why is Matlock Bath famous?
Matlock Bath is affectionately known as the seaside town of Derbyshire, with classic seaside features such as fish and chip shops, amusement arcades and attractions like Matlock Bath Aquarium and the Heights of Abraham, where you can take a cable car ride to a historic hilltop estate.
Which is best, Matlock or Matlock Bath?
Matlock vs Matlock Bath, the simple answer is what do you like to do?
Matlock or Matlock Bath for shopping – for fun arcades or fish and chips, choose Matlock Bath. For independent shops, restaurants, bars, and antiques choose Matlock.
Matlock or Matlock bath for families – for an inland seaside fun day it has to be Matlock Bath.
Matlock or Matlock Bath for scenery – Ride the Heights of Abraham's cable cars at Matlock Bath and take in the views of the whole valley.
Matlock or Matlock Bath for hiking – both are great starting points for walking locally, and with regular train and bus services from both, it's easy to explore these scenic destinations. It's also possible to walk between the two resorts along High Tor; download our walking route.
What was filmed in Matlock?
A number of films and TV shows have been shot in Matlock, in 2004 Shane Meadows set his gritty drama 'Dead Man Shoes' in Matlock, the story of Richard who returns to his home town of Matlock after serving in the British Army.
Is there free parking in Matlock Bath?
There is limited parking space in Matlock Bath and most are Pay & Display. The best option is to leave the car at home and travel by train or bus.
New for 2023

Stagecoach Gold X17 extended to Matlock Bath and Wirksworth
From 28th May 2023 Stagecoach Gold X17 from Sheffield and Chesterfield will be extended to Matlock Bath, Cromford and Wirksworth.
- Sheffield and Chesterfield to Matlock Bath – now up to every 30 mins.
- Now also stopping at Matlock Bath, Cromford and Wirksworth – hourly, 7 days a week.
- Still only £2 single fare until 30th June 2023. View the new X17 timetable.
Featured Businesses
Featured
Business
Nestled in the village of Rowsley on the edge of the Peak District, Chatsworth Kitchen celebrates quality, seasonal dishes sourced from the estate…
---
Featured
Business
Stainsborough Hall and its five independent holiday cottages provides a beautiful base for an idyllic, pet-friendly, country getaway for the whole…
---
Featured
Business
4 award winning log cabins set on a working farm with stunning views of the White Peak countryside. Unwind in the hot tub or log-fired sauna. Dogs…
---
Our Great Itineraries
Connecting charming towns and villages with an amazing industrial past, the Derwent Valley Line runs from Derby to Matlock.
---
The busy market towns of Matlock and Bakewell are a great day out for all the family and the bus is the hassle-free way to travel.
---
Discover some of Derbyshire's most popular towns and villages by bus.
---
Events in Matlock & Matlock Bath
Featured
Events
Santa, Mrs Claus and the cheeky elves will be bringing delights and surprises from the North Pole to thoroughly entertain you as you make your way…
---
Events
Rocked-up traditional folk music
---
Events
A Wacky, Farcical Comedy Theatre
---
Sign up to our newsletter
Receive the latest news, special offers, ideas and inspiration straight to your inbox by signing up to the Visit Peak District & Derbyshire e-newsletter.