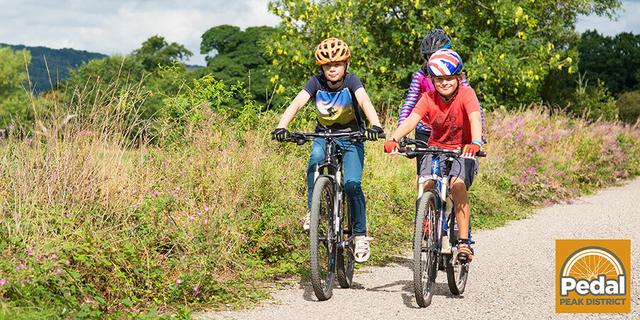 Trails
Matlock - Cycle Along the Derwent Valley
Cycle a former railway line along the river valley.
---
---
---
About
Cycle a former railway line along the river valley. This route is available to download as a PDF and GPX file at the top of this page.
Start/End Point: Matlock railway station Distance: 8km/5 miles Ascent: 55m/180ft Grade: Easy 94% Trail/6% road Cafes: Matlock, Darley Dale, Whitworth Park, Rowsley Pubs: at Matlock, Darley Dale, Churchtown, Rowsley Shops at Matlock, Darley Dale, Rowsley.
This route was developed as part of the Pedal Peak for Business initiative, funded by the European Regional Development Fund.
Trail directions
---
Step 1
With the station on your left, follow the on pavement cycle way (NCN 680). Cross the access road to the car park and use the crossing at Cawdor Way. Follow the cycleway left at the roundabout. Past ARC leisure centre. Turn left onto an access track following NCN 680 signs.
---
Step 2
Cross the railway line to the far side and follow path. Exit through a gate and turn left onto the road. Turn right at the crossroads. Follow blue signs over level crossing then turn left into Whitworth Park through gate. Follow blue 680/WPL signs through park. Bend left at the far end of a football pitch then sharp right as footpath joins from the left.
---
Step 3
Cross Church Lane adjacent to the level crossing and continue on cycleway beside the railway. Slow down near the Derwent Lane footpath access to the railway terminus which can be busy at peak railway times, then veer slightly right through a tree lined section below the road.
---
Step 4
Cross Harrison Way (take care). Follow blue signs left then along the track running parallel to the recycling centre. Pass a wooded wetland area, cross boardwalk and a small industrial works to reach Rowsley car park. To return to Matlock follow the route in reverse.
---
Sign up to our newsletter
Receive the latest news, special offers, ideas and inspiration straight to your inbox by signing up to the Visit Peak District & Derbyshire e-newsletter.