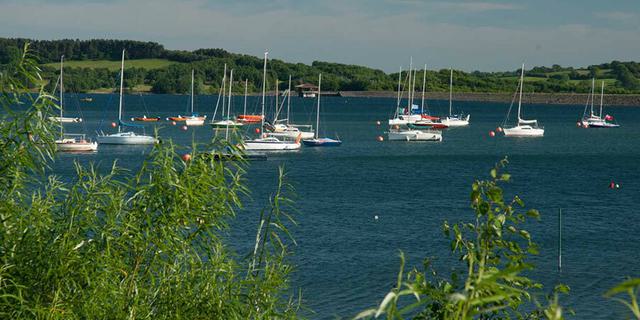 Trails
Matlock Cycle Routes - The Carsington Loop
A delightful loop of Carsington Reservoir.
---
---
---
About
A delightful loop of Carsington Reservoir. This route is available to download as a PDF and GPX file at the bottom of this page.
Start/End Point: Carsington Water visitor centre DE6 1ST Distance: 12km/7.5miles Ascent: 205m/673ft Grade: Easy 91% Trail/9% road Cafes: Carsington Water Pubs: Carsington, Knockerdown Shops: Carsington
This route was developed as part of the Pedal Peak for Business initiative, funded by the European Regional Development Fund.

Trail directions
---
Step 1
With the visitor centre behind you, turn left onto the Carsington Water Circular Route (CWCR) cycle track at the base of the access road. Cross the sailing club access road and follow blue CWCR arrows over the dam wall to the edge of Millfields car park.
---
Step 2
Fork slight left. Cross an inlet, round a small bay and pass a small building. A few "steep slopes" and "sharp bends" follow – watch out for a gate at the end of the third.
---
Step 3
Turn left onto a short track. Turn right just before a gate at the edge of the reservoir. Follow the CWCR round an inlet and over lovely open pasture – look out for the armchair!
As the track nears the road, bend sharp left (don't cross the road just yet), then cross with care at the "Historic Link" access track point. Rise up to Hopton village.
---
Step 4
Turn left along the road and cycle past Hopton Hall to Carsington village.
---
Step 5
Turn right onto a lane opposite the Miners Arms public house. Fork left to a village road running below the pub. Opposite the pub, turn right onto a lane.
---
Step 6
Rise up to Wash Farm, turn left onto a cycle track and descend to re-cross the B5035.
Turn right onto the CWCR track, bend left and past Sheepwash car park, and follow the track back to the visitor centre.
---
Sign up to our newsletter
Receive the latest news, special offers, ideas and inspiration straight to your inbox by signing up to the Visit Peak District & Derbyshire e-newsletter.