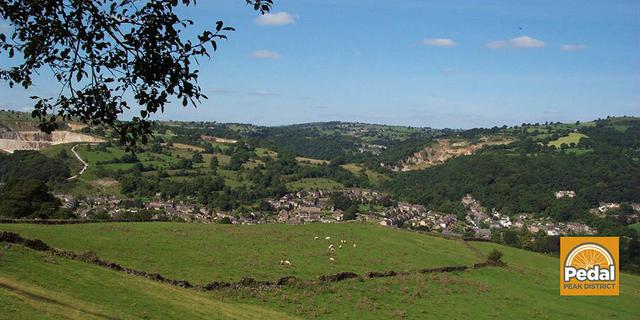 Trails
Matlock - High Peak Trail, Hills and Dales
Explore beautiful and heritage rich landscapes.
---
---
---
About
Explore beautiful and heritage rich landscapes. This route is available to download as a PDF and GPX file at the top of this page.
Distance: 15km/9miles Ascent: 460m/1509ft Grade: Hard 59% road/ 41% Trail Cafes: Cromford Wharf & Mills, High Peak Junction, National Stone Centre, Wirksworth Pubs: Cromford, Wirksworth Shops: Cromford, Wirksworth.
This route was developed as part of the Pedal Peak for Business initiative, funded by the European Regional Development Fund.
Trail directions
---
Step 1
Turn right from the car park and follow road to High Peak Junction. Turn right into car park. Dismount for short walk from car park to Cromford Canal and cross the swing bridge. Fork diagonally right between the railway wagon and workshop buildings onto the High Peak Trail's Sheep Pasture incline. Get into your lowest gear early - the gradient is 12%. Pass the engine house and continue on the trail under Black Rocks, and above the National Stone Centre.
---
Step 2
Get in a low gear as you pass The Wheel Pit then rise up (12% gradient), to Middleton Top cycle hire and information centre.
---
Step 3
Cross a gated access track then pass through the Hopton tunnel. Turn left onto NCN 547 at brown sign for Carsington. Descend concessionary access to road. Turn left then immediately left at crossroads towards Cromford. (Beware lorries). Rise uphill then enjoy the descent!
---
Step 4
At a staggered crossroads turn right towards Ashbourne then turn left towards Wirksworth. This descent is steep (11% gradient), sustained and narrow with bends. Descend with care to a T-junction. Turn left and descend a steep hill (beware parked cars) to a T-junction by Wirksworth cobbled market place.

---
Step 5
Turn left on the B5036, pass the petrol station and rise (sustained) to Steeple Grange. Descend Cromford Hill. This is long and steep (12% gradient) busy road - take care. 11. Cross the A6 carefully and turn on to Mill Road which takes you back to the start.
---
Sign up to our newsletter
Receive the latest news, special offers, ideas and inspiration straight to your inbox by signing up to the Visit Peak District & Derbyshire e-newsletter.