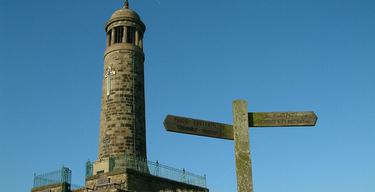 Crich
A pretty village on the edge of the Derbyshire Dales, home of the National Tramway Museum.
Crich is a pretty Derbyshire village on the edge of the Derbyshire Dales. It is the home of the Crich Tramway Village and Crich Stand, the clifftop memorial to the Worcesteshire and Sherwood Foresters Regiment. Crich was also the setting for fictional village of Cardale which featured in the popular TV series 'Peak Practice'.
The village is also home to Crich Tramway Village - home of the National Tramway Museum.
Crich Stand was built in 1923 and is dedicated to the memory of the men who died in the Sherwood Foresters Regiment during the Great War. Subsequently the men who served in the Second World War have been remembered. A pilgrimage takes place on the first Sunday of July each year for a memorial service.
It is a landmark that can be seen for miles around and on a bright day it is possible to see Lincoln Cathedral, 50 miles away. This is the third stone built tower on the site and before that there was at least one wooden structure. It is thought a bonfire was lit here to celebrate the defeat of the Spanish Armada; now it is a light powered by electricity that lights up the sky.
Crich was the original location for the hit television series 'Peak Practice'. The fish and chip shop even changed its name to include 'Cardale', the fictitious village where the series was based, in the title. Over the road Allsop's Bakery has been replaced by 'the loaf' bakery, deli and cafe. The superb three storey stone house in Surgery Lane was a doctor's house for many years.
Places of interest
Business Directory Crich Tramway Village
Take a tram ride through time at Crich Tramway Village, home of The National Tramway Museum - an ideal destination for all ages.
Sign up to our newsletter
Receive the latest news, special offers, ideas and inspiration straight to your inbox by signing up to the Visit Peak District & Derbyshire e-newsletter.