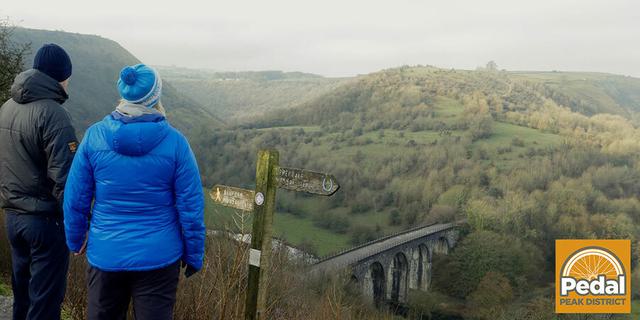 Trails
Cycling around Bakewell - Hassop to Monsal Head
Journey 7 miles to the iconic view across Monsal Dale.
---
---
---
About
Journey 7 miles to the iconic view across Monsal Dale. This route is available to download as a PDF and GPX file at the top of this page.
Start/End Point Hassop Station Café and Cycle Hire car park (on Monsal Trail) DE45 1NW
Length: 29km/18miles
Ascent: 540m/1771ft
Grade: Hard
100% road
This route was developed as part of the Pedal Peak for Business initiative, funded by the European Regional Development Fund.
Trail directions
---
Step 1
From Hassop Station car park go onto the Monsal Trail and Turn right. Follow the trail to Thornbridge station (you will see former station master's house on the left). Double back at end of platform on your right and through a gate to leave the trail.
---
Step 2
Turn left at road. Turn left into Great Longstone. At the Crispin pub T-junction turn left. Follow the road up through Little Longstone, past the Packhorse pub to the B6465 road.
---
Step 3
Turn right then immediately left into car park (take care crossing road) for view at Monsal Head.
Exit car park and turn right downhill to Ashford-in-the-Water. Turn left at T-junction at Ashford Arms pub.
---
Step 4
Turn right onto A620 then immediately left on old road adjacent to cricket pitch (take care crossing road) and cross over the river. Turn left onto A6 towards Bakewell. Turn left over packhorse bridge before reaching Bakewell fire station.
---
Sign up to our newsletter
Receive the latest news, special offers, ideas and inspiration straight to your inbox by signing up to the Visit Peak District & Derbyshire e-newsletter.