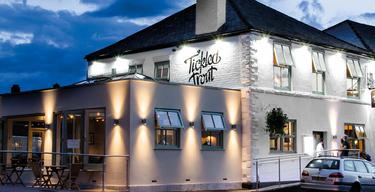 Barlow
A friendly village in beautiful walking country.
A friendly village in beautiful walking country. Mentioned in the Domesday Book, the village was owned by Richard D'Abitot, whose family changed their name to De Barley in the 1200s.
The village became known as Barley and this spelling can be found up to the 17th Century. Robert Barley was Bess of Hardwick's first husband, when Bess was only 15 years old. Robert died in 1532, less than a year after the marriage, and is buried in St Lawrence's Church in Barlow.
The following year, James Barley sold the village to the Earls of Shrewsbury and it came into Bess of Hardwick's possession when she married her fourth and last husband, George Talbot, the Earl of Shrewsbury.
Today, Barlow is known for its well dressings which are unusual not only for their size but also for the way they are dressed. Villages out in the Peak District use flower petals to dress their wells but, in Barlow, they use whole flower heads. It's said that the village has been dressing wells this way since Elizabethan times.
Barlow is much loved by anglers because of the Barlow Fishery where both trout and coarse fishing is available. If you've always wanted to fish but never had the chance, book a lesson with their professional tutors.
They say that the training lake is so well stocked that learners can start catching fish from the word go! Visit Barlow in August for the Carnival Parade, well dressings and flower festival in St Lawrence's Church, which dates back to 1150.
Sign up to our newsletter
Receive the latest news, special offers, ideas and inspiration straight to your inbox by signing up to the Visit Peak District & Derbyshire e-newsletter.