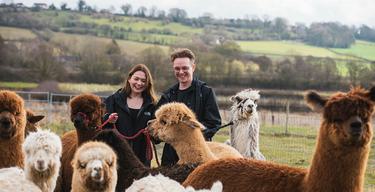 Brackenfield
Surrounded by beautiful countryside, this pretty village is close to Ogston Reservoir.
Brackenfield was probably originally known as 'Brackenthwaite' meaning a bracken clearing. Today it is a scattered village centred around the very large Village Green.
Surrounded by beautiful countryside, the village is close to Ogston Reservoir, a haven for birdwatchers and home of the Ogston Bird Club. Built by damming the River Amber in 1958, the Reservoir is surrounded by woodlands, fields, scrub and grasslands, and even an orchard! When the water level drops in late summer and autumn, the Reservoir attracts large numbers of wading birds but, in winter, Ogston is the best site nationally to watch rare species of gull - 14 different species have been recorded here. The Bird Club run guided bird walks on the first Saturday of the month at 9.30 am from the West Bank Car Park but please telephone Peter Birley to check (Tel: 01332 753078). Everyone is welcome to use the public hide on the West Bank, or watch from the roadside or car parks.
A chapel of ease was built at Brackenfield around 1500 but now lies in ruins, hidden by trees. A pilgrimage from the village to this chapel is held each year on Trinity Sunday. A new church was built in 1857 and is the site of one of Brackenfield's well dressings. Other dressings are sited at the Church Hall, the Methodist Church, Nether Farm and on the top side of the Village Green. The well dressing is usually held at the Spring Bank holiday in May.
Disabled toilets in Church Hall
Sign up to our newsletter
Receive the latest news, special offers, ideas and inspiration straight to your inbox by signing up to the Visit Peak District & Derbyshire e-newsletter.