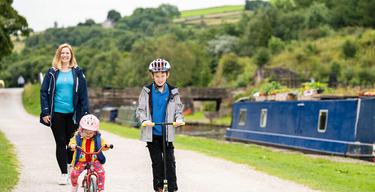 Buxworth
This small village at the start of the Peak Forest Canal is home to Bugsworth Basin.
A small village (originally named Buggesworth but changed by the Victorians who disliked the association with "bugs") at the start of the Peak Forest Canal, and with the beautifully restored Bugsworth Basin. When the canal was first built, Buxworth became the biggest inland port in the country, being able to moor over 100 boats at any one time.
The Peak Forest Canal came to Buxworth in 1798, and was in continuous operation until 1928. Limestone was brought to Bugsworth Basin from Dove Holes via a tramway, part of which is now a well-used bridleway alongside the beautiful Black Brook.
The Inland Waterways Protection Society has restored the Basin which is now listed a Grade 1 Industrial Archaeological Site and was re-opened for navigation in 2005.
The Navigation Inn serves as a central point for the village.
Sign up to our newsletter
Receive the latest news, special offers, ideas and inspiration straight to your inbox by signing up to the Visit Peak District & Derbyshire e-newsletter.