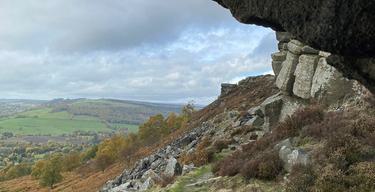 Calver
A pleasant stone built village in the Derwent Valley, its' surroundings combine some of the best of both White and Dark peak scenery.
The attractive old part of the village, now thankfully off the main through road, has some lovely old cottages set around the village cross.
The River Derwent has two road crossings at Calver, near to the older 18th century bridge is the imposing Calver Mill, formerly a cotton mill, later producing stainless steel and now converted to luxury apartments, it was featured as Colditz Castle in the TV series about the prisoner of war camp.
The north of the village is known as Calver Sough (pronounced "suff") where there was once lead mining activity. All around is glorious scenery; to the east are the gritstone edges and heather clad moorland, whilst the grassy heights of the limestone outcrops on Calver Peak look down from the east.
Things to do in Calver:
Many popular walking routes radiate from Calver and it has some good facilities. The Derwent Valley Heritage Trail runs through the village. Near the bridge is a busy Craft Centre with shop, gallery and café; around the crossroads at the Sough end are outdoor retail shops, a garden centre and café. There is a specialist alpine nursery on the Sheffield Road and the village also has a couple of pubs. Close to the village is Cliffe College, a Methodist Church training college and conference centre.
Sign up to our newsletter
Receive the latest news, special offers, ideas and inspiration straight to your inbox by signing up to the Visit Peak District & Derbyshire e-newsletter.