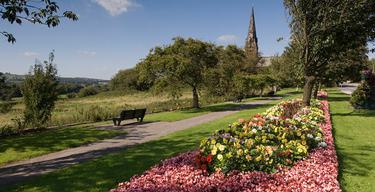 Clay Cross
An historic town near Chesterfield that grew from industry.
Clay Cross was once known as Clay Lane and, if you drive through the town on the A61, you will notice how straight the road is for some distance on either side. This is probably the route that the Roman road Ryknield Street took on its way from Derby (Derventio) to Rotherham.
When George Stephenson came to the area to plan the railway route from Derby to Leeds, he came to the same conclusions that the Roman's did: the route lead through Clay Cross. But the trains couldn't climb hills like to legionnaires did so Stephenson would have to tunnel under the village.
Gangs of navvies descended on Clay Cross to build what would become known as the 'Mile Long' tunnel. During the work, massive coal and ironstone deposits were uncovered and Stephenson launched the Clay Cross Company. He sank coal pits at Clay Cross, Morton, Wingerworth and Danesmoor and added iron smelting furnaces and Lime works to his impressive list of businesses. Clay Cross Colliery closed down in 2000 and now there's not one of Stephenson's coal mines left in operation.
Stephenson ran the Company from his house at Tapton, just outside Chesterfield and, from the first profits in 1854, built a block of school buildings and offered nearly free education for local children. Company workers paid 2 pence per week, no matter how many children they had at the school, while other children could attend at a slightly higher fee.
Today, Clay Cross is a busy town with shops, a Leisure Centre and a Snooker Club. Though the town grew from industry, it is still surrounded by pretty Derbyshire countryside that offers interesting walks, or follow the Clay Cross Heritage Trail that will take you around the town in 1½ hours.
Sign up to our newsletter
Receive the latest news, special offers, ideas and inspiration straight to your inbox by signing up to the Visit Peak District & Derbyshire e-newsletter.