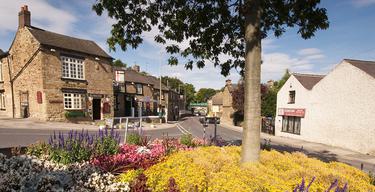 Dronfield
A small town near Chesterfield, just a stone's throw from the Peak District.
The town of Dronfield lies midway between Sheffield and Chesterfield, and only 3 miles from the Peak District.
The first settlers in this area were probably attracted by the rivers, streams and woodlands.
Traditionally, the Anglian settlement started on the site of the long, low, five-bayed building, now divided into several small shops, opposite the Parish Church. The Domesday Book of 1086 says very little about Dronfield, except to confirm its existence with a suggestion that it wasn't very valuable!
he Church of St John the Baptist was one of the richest livings in the Hundred of Scarsdale. Other historical buildings include the Green Dragon Inn (1349), once the hall of the chantry priests and the headquarters of the Guild of the Blessed Virgin Mary and the barn on High Street with its carved king post roof that may date to the 15th Century. Dronfield has an unusual landmark - the Peel Monument on High Street. Built in 1854 as a tribute to Robert Peel, the monument commemorates his repeal of the Corn Laws in 1846.
Each year Dronfield plays host to a number of festivals and events – notably, Dronfest, a family friendly summer music festival and the popular Three Valleys Beer Festival, both enjoyed by thousands of locals and visitors alike.
With its easy access to the motorway network, Sheffield, Chesterfield and the Peak District, a thriving railway station and extensive leisure facilities, plus a strong community spirit and choice of pubs and restaurants, there is little not to like about Dronfield.
Sign up to our newsletter
Receive the latest news, special offers, ideas and inspiration straight to your inbox by signing up to the Visit Peak District & Derbyshire e-newsletter.