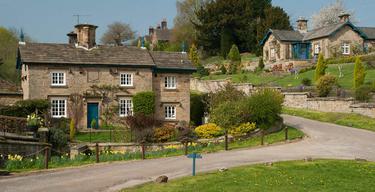 Edensor
Specially commissioned by the 6th Duke of Devonshire, Edensor is a quintessentially English village.
Specially commissioned by the 6th Duke of Devonshire, the custom-built village of Edensor (pronounced 'Enza') in Chatsworth Park features a delightful hotch-potch of traditional house designs, from mock Tudor to Swiss cottage.
The 6th Duke decided to demolish the old estate village and rebuild it out of sight in the 19th century, because it spoiled his view of the estate from Chatsworth. Access then, as now, was through a white estate gate.
The graceful spire of the church of St Peter dominates the village skyline, and many fine monuments to the Cavendish family can be found inside the building. In the churchyard, a special area is reserved for the family's graves.
They include a memorial to Kathleen Kennedy, sister of famous former USA President John F Kennedy, and wife of William 'Billy' Cavendish, Marquess of Hartington, who was killed in action in the Second World War. JFK visited his sister's grave in the early 1960s, before his assassination.
The churchyard is also the last resting place of Sir Joseph Paxton of 'Crystal Palace' fame, who was head gardener to the 6th Duke of Devonshire and cultivated the famous Cavendish banana, named after the Duke and still eaten all over the world.
The village's former post office is now home to Edensor Tea Cottage, licensed and open daily throughout the year, serving breakfast, morning coffee, lunch and afternoon tea, and also some Chatsworth Estate holiday cottages.
A brisk walk over the hill leads you to Chatsworth, one of Britain's top ten country houses, with its landscaped gardens and lawns, water features, adventure playground and farmyard, shops, restaurants, cafés and much more.
In the other direction, a stroll across rolling parkland and its herds of native deer and sheep leads to the estate's well-stocked garden centre, with its welcoming café. Or meander along Edensor's main street with wide grassy verges to a lane where you'll find sweeping views over parkland and the Derwent Valley.
Sign up to our newsletter
Receive the latest news, special offers, ideas and inspiration straight to your inbox by signing up to the Visit Peak District & Derbyshire e-newsletter.