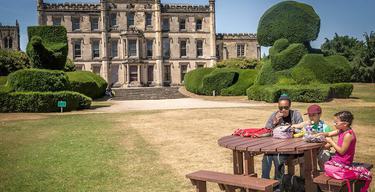 Elvaston
The historic parish of Elvaston includes three charming villages.
Elvaston Parish in South Derbyshire, comprises three small villages, Thulston, Elvaston and Ambaston. For centuries almost the entire parish was in the ownership of the Harrington family and was run as a country estate. However, in the early 1960's the whole estate was sold and Elvaston Castle, dating from 1633, and its park are now owned by Derbyshire County Council.
The grounds at Elvaston Castle are more famous than the house, they were restored in 1968-70 and opened to the public as a country park, and they contain long straight avenues as well as fine landscaping with a wide selection of trees, a large serpentine lake and fine displays of topiary. Close to the castle is St Bartholomew's church, a Grade I listed building dating from the 13th century.
Sign up to our newsletter
Receive the latest news, special offers, ideas and inspiration straight to your inbox by signing up to the Visit Peak District & Derbyshire e-newsletter.