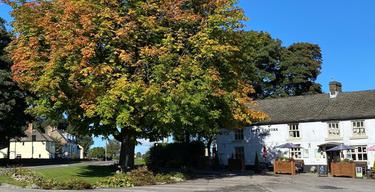 Flagg
A small Peak District village nestled in the Derbyshire Dales near Buxton and Bakewell.
Flagg is a small Peak District village, set in the Derbyshire Dales, halfway between the picturesque town of Bakewell and the spa town of Buxton.
Flagg is a friendly village in the area officially known as "The White Peak". A thousand feet above sea level. It is predominantly a farming village, concentrating on all aspects of agriculture. Before water was piped to houses etc it was pumped up from a well and collected from stand taps in the village, Flagg water supply never failed and farmers from miles around would come with their tanks to collect water for their animals.
Flagg Hall is thought to date back to the 16th century and had associations with the Dales and Fynnes, who were old Derbyshire families. The most noted resident of Flagg Hall however is the 'haunted skull' which is still said to be contained within. Legend has it that should this skull be removed or buried, great misfortune will befall the owners of the Hall. An attempt was made to bury the skull at Chelmorton many years ago, but when the funeral cortege neared the village, the horses refused to proceed and despite any encouragement by the coachman, they reared and stamped so much that he was forced to return the vehicle to the Hall, and the skull was replaced.
Flagg is actually best known throughout the United Kingdom for the point-to-point races held annually on Easter Tuesday by the High Peak Hunt. Flagg Moor is the setting and the races are Derbyshires equivalent to the Grand National. It is said that King Edward VIII when Prince of Wales actually rode at Flagg Races!
Things to do; Flagg races on Easter Tuesday. Flagg is surrounded by many wonderful paths and tracks, and the Limestone Way walk passes straight through the village.
Sign up to our newsletter
Receive the latest news, special offers, ideas and inspiration straight to your inbox by signing up to the Visit Peak District & Derbyshire e-newsletter.