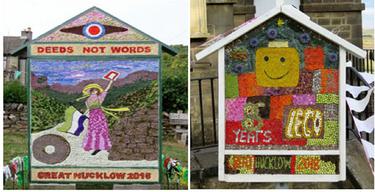 Great Hucklow
A charming, peaceful little village set under Hucklow Edge in splendid countryside.
Off the beaten track 6 miles north of Bakewell, the road up through the village passes by some charming stone houses leading to the lofty Edge and some fabulous viewpoints. Lead mining was once an important industry here and there is evidence of this in the surrounding fields.

Things to do; On Hucklow Edge is the Derbyshire and Lancashire Gliding Club, accompanied flights can be booked and you can watch the take off and landing strip from a viewing area. There are Well Dressings held annually in August while at Christmas the village is a riot of colour when the street and houses are bedecked with lights. The Queen Anne is the only pub in the village, with the Barrel Inn at Bretton a stiff climb out of the village on the edge. There are no other visitor facilities here, for the nearest villages see Eyam and Tideswell.
Sign up to our newsletter
Receive the latest news, special offers, ideas and inspiration straight to your inbox by signing up to the Visit Peak District & Derbyshire e-newsletter.