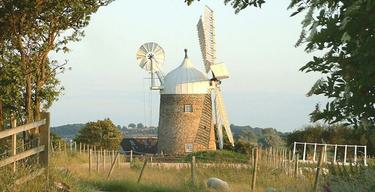 Heage
Heage is a scattered village lying between the larger towns of Ripley and Belper. The village ls in two main parts, Heage itself, and Nether Heage. Neither village has a centre with Heage Windmill being the most notable attraction
Heage is a scattered village lying between the larger towns of Ripley and Belper. The village ls in two main parts, Heage itself, and Nether Heage (or formerly High Heage and Low Heage). Neither village has a centre and consists of houses and cottages scattered along the roads and lanes, with Heage Windmill being the most notable attraction. The name is from the Anglo-Saxon 'Heegge' meaning high, lofty or sublime.The original inhabitants would have been engaged in farming and there are still family-owned farms today. At the beginning of the industrial revolution coal mining and the ironworks at Morley Park and later at Butterley were major employers. At Morley Park are the stubby remains of the first coke-fired blast furnaces in Derbyshire. One dates from 1780, the other 1818. St Luke's parish church, was originally built of wood, but was destroyed by a violent tempest in June 1545. Rebuilt in 1661 and enlarged in 1836, it has no square tower or spire, but an unusual octagonal bell tower on the north side of a barn-shaped structure, with the oldest part of the church at right angles to this.
Sign up to our newsletter
Receive the latest news, special offers, ideas and inspiration straight to your inbox by signing up to the Visit Peak District & Derbyshire e-newsletter.