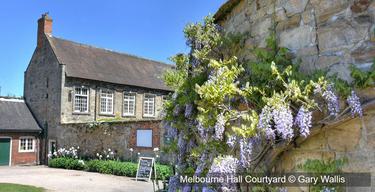 Melbourne
A small and attractive Georgian market town in South Derbyshire. One of the best-known features is the old mill pool known as Melbourne Pool.
Melbourne is a small and attractive Georgian market town in a delightful part of South Derbyshire on the edge of The National Forest. It is about 8 miles south of Derby and 2 miles from the River Trent. It contains a good range of shops, pubs and restaurants. Melbourne means 'Mill Stream' so it is appropriate that one of the best known features is the old mill pool known as Melbourne Pool, picturesquely landscaped in 1845 for Lord Melbourne, the former Prime Minister. Overlooking the pool is Melbourne Hall and Gardens. Melbourne Hall was a secondary home of Queen Victoria's first Prime Minister William Lamb who as second Viscount Melbourne gave his name to the Australian city of Melbourne in the 1830s. The spectacular gardens were laid out by the Rt. Hon. Thomas Coke in 1704 and can still be enjoyed today welcoming visitors through the summer months.
Melbourne was formerly known for its hosiery and silk glove factories and Thomas Cook the travel agent, born of a poor family in 1808, was employed by a Melbourne market gardener. Having found fame and fortune, Cook built a quadrangle of memorial cottages on High Street which are still run in trust. Melbourne today is a foodie favourite with superb restaurants, pubs and cafes; there's also plenty of shopping with a wide range of independent retailers including galleries, antique shops, clothes stores, gift shops and local produce.
Each September the town organises the Melbourne Festival – two weeks of arts, crafts, musical performances, recitals and exhibitions. The Festival's Arts & Culture Trail leads you around the town, in and out of residents' houses to view the work of talented artists and craft workers.
Sign up to our newsletter
Receive the latest news, special offers, ideas and inspiration straight to your inbox by signing up to the Visit Peak District & Derbyshire e-newsletter.