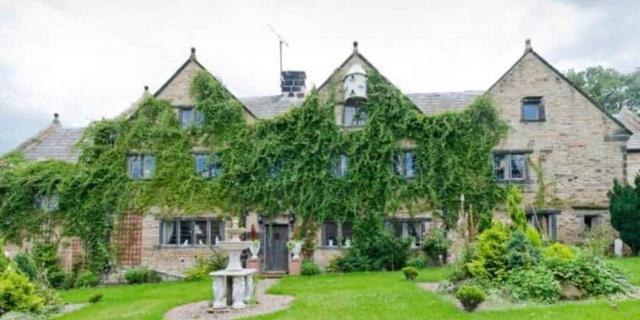 Business
Hagg Hill Hall
Historical property with swimming pool, hot tubs, sauna, BBQ hut, outdoor chess-set and more.
---
---
About
Historical property with swimming pool, hot tubs, sauna, BBQ hut, outdoor chess-set and more. Hagg Hill Hall promises one-of-a-kind moments that are sure to spark lasting memories. With large play areas for the kids, country walks from our doorstep and green fields all around – you will feel like royalty here!
Long description
Looking for a unique and special place to spend your holiday with friends and family or even host an event?
Hagg Hill Hall is so much more than your standard holiday house; somehow it offers both a home away from home and a stay unlike anything else you have experienced.
Hagg Hill Hall is a unique and eclectic building that will fascinate you and your fellow guests. Twisting staircases, numerous four-poster beds, dramatic window dressings and open fireplaces all add to the experience - creaking floorboards are provided at no extra charge and the odd spiders web means flies won't be a problem.
Imagine dinners with family and friends, swimming in the indoor heated swimming pool, catching up in the oversized group sauna and hot tubs, or the numerous outdoor options like enjoying the public footpaths with your four-legged friends. This beautiful house offers limitless opportunities for romance, adventure, and fun. Every room boasts its own personality - ensuring a new experience at every turn.
Since opening as a holiday home in December 2010 we've hosted over 9,000 guests and celebrated birthdays, hens weekends, family reunions, walking holidays, Christmas events and more. In the coming year will also be introducing micro, mid-week receptions.
This house can be anything you need it to be – a venue for a laughter-filled energetic family break or a sanctuary providing some much-needed downtime.
What can you expect?
Sleeping arrangements suiting up to 22 guests
Dog Friendly (two extra-large/three standard dogs welcome)
Off street parking for 8 to 10 cars
An extra-large, heated swimming indoor pool with additional children's pool attached
Indoor and outdoor hot tubs
Sauna hut
BBQ hut
22-seater dining area
Two large living areas with three sofas in each
Well equipped kitchen with multiple fridges
Oversized outdoor chess set
Outdoor play boat
Large lawned play area
Fast Wifi
Book Now on hagghillhall.com – Discover the perfect escape today!
Sign up to our newsletter
Receive the latest news, special offers, ideas and inspiration straight to your inbox by signing up to the Visit Peak District & Derbyshire e-newsletter.