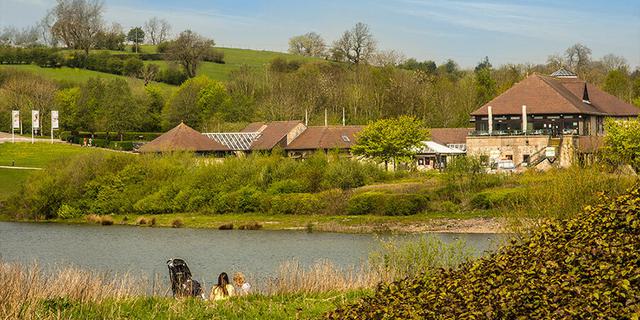 Trails
The Carsington Loop
Discover a tranquil landscape shaped by water on a beautiful circular cycling route.
---
---
---
About
Discover a tranquil landscape shaped by water. This route is available to download as a PDF and GPX file at the top of this page.
Start/End Point: Bottom of Access Road to Carsington Water Visitor Centre DE6 1ST Distance: 27km/17miles Ascent: 575m/1886ft Grade: Moderate 57% road/43% trail Cafes: Carsington Water Pubs: Carsington, Hognaston
This route was developed as part of the Pedal Peak for Business initiative, funded by the European Regional Development Fund.
Trail directions
---
Step 1
With the visitor centre behind you, turn left onto the Carsington Water Circular Route (CWCR) cycle track. Cross the sailing club access. Follow blue arrows over the dam wall to the edge of Millfields car park.
---
Step 2
Fork slight left. Cross an inlet, round a small bay and pass a small building then turn right and rise up a track past Riddings Farm to a T-junction. Turn right. Descend to a T-junction with Blackwall Lane and turn left up a narrow "sunken lane". Sharp left into Kirk Ireton.
---
Step 3
Turn right towards Idridgehay opposite Barley Mow public house and descend through the village. Fork left by church onto Church Corner and bend sharp left. Turn left onto Topshill Lane and rise uphill. Bend left towards Kirk Ireton then cross over junction onto Blind Lane.
---
Step 4
Turn right onto Oldfield Lane and descend to rejoin CWCR following blue cycle arrows again. Turn right just before the gate at the edge of the reservoir. Bend sharp left near the road, then cross with care. Turn left onto the road in Hopton, then turn right at a minor junction and go steeply uphill.
---
Step 5
Cross over a road, then immediately turn right to access the High Peak Trail. Turn left rising up the incline. Pass Harboro Rocks then fork right to Longcliffe. Head left along a track veering left of the road. Turn left and descend to Brassington.
---
Step 6
Turn right towards Bradbourne. Turn right opposite the Miners Arms public house and follow the road to Bradbourne. Turn left towards Carsington on Brackendale Lane. At the T-junction go straight ahead over the B5035 onto a cycle track. Cross the road by the campsite entrance and descend a farm/cycle track back to the Carsington Water access road. Turn left back to the start.
---
Sign up to our newsletter
Receive the latest news, special offers, ideas and inspiration straight to your inbox by signing up to the Visit Peak District & Derbyshire e-newsletter.