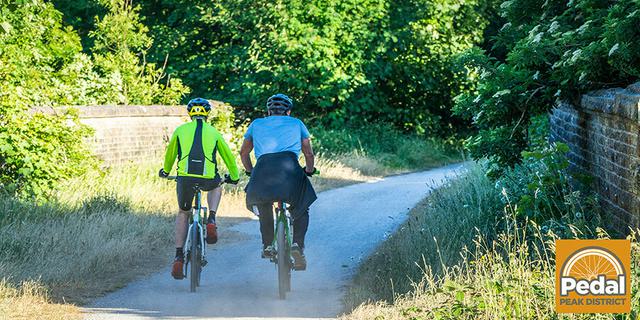 Trails
Tissington Trail Loop
Cycle a scenic route to one of Derbyshire's prettiest villages
---
---
---
About
Cycle a scenic route to one of Derbyshire's prettiest villages. This route is available to download as a PDF and GPX file at the top of this page.
Start/End Point: Ashbourne Cycle Hire Centre car park (on Tissington Trail) DE6 2AA Distance: 14km/9miles Ascent: 220m/721ft Grade: Easy 45% road / 55% trail Cafes: Ashbourne and Tissington Pubs: Ashbourne, Thorpe and Mapleton Shops: Ashbourne
This route was developed as part of the Pedal Peak for Business initiative, funded by the European Regional Development Fund.
Trail directions
---
Step 1
Turn right out of Tissington Trail car park. Cross humpback bridge over Bentley Brook and go past Callow Hall. Beware of a slight blind summit on the way to Mapleton village. Pass the Okeover Arms public house and continue straight ahead towards Thorpe. Beware of buses on narrow sections, and a steep rise uphill to a T-junction. Turn left towards Thorpe and pass a Peak District National Park boundary millstone.
---
Step 2
Immediately opposite The Old Dog public house, turn right towards Tissington (beware of traffic approaching from ahead round the bend) and past Narlow's Lane car park. Bend sharp left on the road, which is quite rough in places.
---
Step 3
Cross a steep-sided valley. Take care crossing over A515 and through the gateway to Tissington Estate. Follow this unfenced treelined avenue. Cross a cattle grid, pass the duck pond and bend right then turn right to access the Tissington Trail (beware the drainage ditch at car park entrance). Turn right onto Tissington Trail and follow to Ashbourne.
---
Sign up to our newsletter
Receive the latest news, special offers, ideas and inspiration straight to your inbox by signing up to the Visit Peak District & Derbyshire e-newsletter.