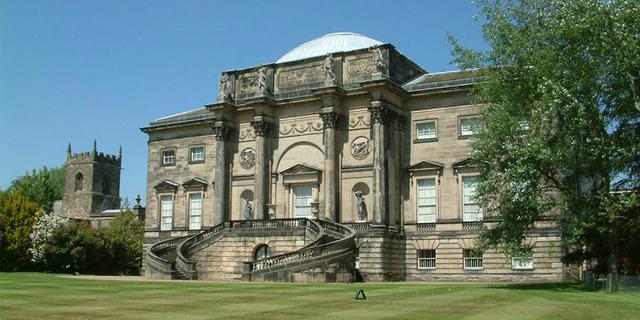 Trails
Derby Cycle Routes - Kedleston Hall
A short and easy circular family ride near Derby.
---
---
---
About
This is a short and easy circular family ride, following mostly off road tracks and some quiet lanes, between Markeaton Park and Kedleston Hall to the north west of the city centre. Kedleston Hall is a National Trust property, set in over 800 acres of parkland and landscaped pleasure gardens.
Download the pdf above.
Trail directions
---
Step 1
Begin at Markeaton Park, in the car park on Markeaton Lane. Head out of the north west road entrance turning right onto Markeaton Lane. Continue 25 meters until you reach a small unmarked road on your left. Take the left turn.
---
Step 2
Follow this road in an north west direction as it becomes a dirt track. Continue until you reach a junction with another track, at a wooden gate. Go right, through the gate. Follow this track north east until you reach it's end, at Kedleston Road.
---
Step 3
Turn left, and follow Kedleston Road north west, until you see the large stone main entrance to Kedleston Park on your left. Go left, through the stone gateway into Kedleston Park. Continue over the bridge to the Y-junction.
---
Step 4
Turn left to visit Kedleston Hall. When you are finished at the hall, cycle back to the Y-junction and take the left hand fork, not going over the stone bridge. Head north west until you reach the stone gateway at the North-West entrance.
---
Step 5
Go out of the gate and left onto Mercaston Lane. Follow this lane until you reach Lodge Lane on your left. Take the left hand turning into Lodge Lane continuing until you reach the top of the first hill. Just beyond the brow of the hill there is a turning for a small farm track on the left.
---
Step 6
Take the left turn and head east until you reach a metal gate by some farm buildings. Go through the metal gate and continue east until you reach the wooden gate where you previously turned right, towards Kedleston Road.
---
Step 7
Turn right and follow the path back to Markeaton Lane. Turn right, then immediately left to arrive back in the car park where you started.
---
Sign up to our newsletter
Receive the latest news, special offers, ideas and inspiration straight to your inbox by signing up to the Visit Peak District & Derbyshire e-newsletter.