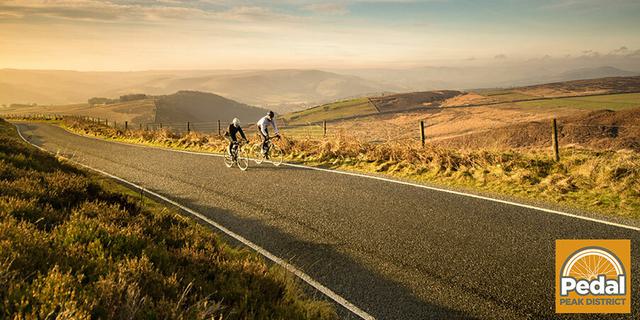 Trails
Hope Valley Cycle Routes - Hope Valley to Great Hucklow
A 17.5 mile journey through moorland landscapes
---
---
---
About
A 17.5 mile journey through moorland landscapes. This route is available to download as a PDF and GPX file at the top of this page.
Start/End Point Hathersage station S32 1DT
Length 28km/17.5miles
Ascent: 548m/1798ft
Grade: Hard
100% road

This route was developed as part of the Pedal Peak for Business initiative, funded by the European Regional Development Fund.
Trail directions
---
Step 1
Leaving the station turn left on the main road under the railway bridge

---
Step 2
After crossing River Derwent turn right at the Plough Inn to Abney and the gliding club. Take care crossing the road.

---
Step 3
Turn sharp right at the T junction.

---
Step 4
Continue through Great Hucklow, passing the Queen Anne Inn.

---
Step 5
Go straight on crossing the B6049 at Windmill. Take care at this junction.

---
Step 6
Turn right at the T junction following signs to Castleton.

---
Step 7
Turn left (signposted Castleton).

---
Step 8
Take great care on steep descent into Castleton.

---
Step 9
Turn right past the village green to join A6187.

---
Step 10
Follow the road back via Hope to Hathersage and Turn right by the George Hotel to return to the station.

---
Sign up to our newsletter
Receive the latest news, special offers, ideas and inspiration straight to your inbox by signing up to the Visit Peak District & Derbyshire e-newsletter.