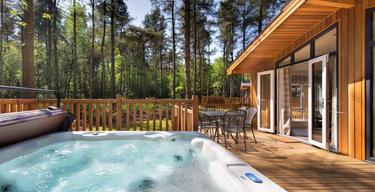 Best pet-friendly places to stay in the Peak District and Derbyshire
Here's our ruff guide to the best dog-friendly hotels and pet-friendly cottages.
---
---
With so many great pet friendly places to stay in the Peak District and Derbyshire, you'll never have to leave your beloved pet at home.
Here's our ruff guide to the best dog-friendly hotels and pet-friendly self-catering cottages in the Peak District and Derbyshire where you can take your pet on an adventure that will really get their tails wagging!
Landal Darwin Forest, Matlock
Nestled in woodland just a stone's throw from the Peak District, this award-winning luxury lodge holiday park's Coppice Spa lodges have been designed with pets and muddy boots in mind. As well as first-class facilities and home-from-home comforts, there's an enclosed spacious veranda with outdoor washing facilities for paws and boots and quality outdoor furniture where you can relax. There's even an outdoor hot tub!
The utility room has everything you need to pamper your pooch with a doggie shower, hairdryer, towels and space for their bed and feeding bowls, whilst the stylish living space includes a feature kitchen complete with coffee machine, wine cooler, dishwasher and washing machine, plus a master bedroom with king sized bed, TV and en suite shower room. The perfect place to relax after long walks with your four legged friend.
Find out more about the Landal Darwin Forest
Business Directory Darwin Forest
Darwin Forest is an award winning 5 star lodge holiday park which is set in 47 acres of stunning woodland. The luxury lodges are perfect for spending quality time together whether you are on holiday as a couple or as part of a larger group.
Stainsborough Hall, Carsington
Stainsborough Hall and its five independent holiday cottages provide a beautiful base for an idyllic, pet-friendly, country getaway for the whole family. Located on the shores of Carsington Water, with direct access to the traffic-free trail around the reservoir, it's an ideal location for outdoor lovers. And, while the cottages are set in a stunning rural and remote location, local attractions such as the Heights of Abraham, Cromford, Matlock, Ashbourne, and The Peak District National Park are all within a 10-minute drive of the property.
There are five independent, pet-friendly cottages to choose from, all with home comforts including underfloor heating throughout and log burners in all living rooms. Dog bowls, pet towels and eco-friendly poo bags are all included.
Find out more about Stainsborough Hall
Business Directory Stainsborough Hall
Stainsborough Hall and its five independent holiday cottages provides a beautiful base for an idyllic, pet-friendly, country getaway for the whole family.
Hoe Grange Holidays, Brassington
Forget the stress of kennels, Hoe Grange Holidays is a haven for dogs and their owners. In an idyllic countryside spot between Ashbourne and Bakewell, your pooch can stay in one of three dog friendly lodges. Nearby walks include the traffic-free High Peak Trail, which can be accessed straight from the site and stretches for over 11 miles.
There are plenty of dog friendly pubs within walking distance, bedding washing and drying facilities and an outside tap for muddy paws. They can also provide extras such as dog towels, bowls, bed and food. You can even treat your pooch to a special 'on Holiday at Hoe Grange' dog tag!
If you have a feline friend, Hoe Grange Holidays also welcomes cats and other pets too; you can even bring your horse on holiday!
Find out more about Hoe Grange Holidays
Business Directory Hoe Grange Holidays
4 award winning log cabins set on a working farm with stunning views of the White Peak countryside. Unwind in the hot tub or log-fired sauna. Dogs welcome and you can even bring your horse!
Yorkshire Bridge Inn, Bamford
Enjoy dog friendly walks around the Upper Derwent Valley before spending the night at this award-winning family-run inn. Nestled on the banks of the glorious Ladybower Reservoir, you and your four-legged friend can admire the views from Bamford and Derwent Edges, or stroll by the water at Derwent and Ladybower Reservoirs.
Afterwards, tuck into home-cooked food in the cosy pub with your pet by your side. Their tasty traditional British dishes are prepared using the freshest produce!
Settle down for the night in a pet friendly en suite room (greeted by homemade biscuits on arrival), before doing it all again the following day!
Find out more about the Yorkshire Bridge Inn
Business Directory Yorkshire Bridge Inn
Situated in the beautiful Hope Valley, the Yorkshire Bridge Inn is a family owned multi award winning inn located just a short stroll from Ladybower Reservoir. We have 14 en-suite bedrooms offering quality accommodation.
Bolehill Farm Cottages, near Bakewell
Within walking distance of picturesque Lathkill Dale, Bolehill Farm is surrounded by brilliant beauty spots - so your pet can burn off some steam on amazing walks before staying the night in one of eight traditional, dog-friendly self-catering cottages.
The cottages are set in 20 acres of grounds surrounded by open fields and woodland, and there's even a special dog paddock exercise area.
There are plentiful dog friendly pubs and attractions nearby, a dog wash area for muddy paws and even a dog welcome basket, which includes dog bed, towels, bowls and a few tasty treats!
Find out more about Bolehill Farm Cottages
Business Directory Bolehill Farm Cottages
Bolehill Cottages comprise of modern dog-friendly barn conversions wrapped around a tranquil courtyard set within 20 acres of Peak District National Park. Set on a former working farm, Bolehill Cottages really are a special place to stay.
Mulino Pods, Carsington
In a peaceful farm setting with views towards Carsington Water, these secluded glamping pods are surrounded by stunning walking and cycling routes that can be enjoyed from the doorstep. Two of the pods are dog friendly and boast beds that are freshly-made for your arrival, with electric sockets, a fridge, kettle, toaster, crockery and even tea, coffee and sugar for a brew!
Outside, you can soak up the peace and quiet on the decked seating area, where there's a BBQ and firepit, perfect for cosy nights. The historic market town of Ashbourne, known as the 'Gateway to Dovedale' (and famed for its picturesque stepping stones) is just three miles away.
Find out more about Mulino Pods
Business Directory Mulino Pods
Just three secluded glamping pods located on a farm which boast fantastic views over the valley towards Carsington Water. You can escape to the peace and quiet of our rural farm within easy reach of Ashbourne. Perfect place to switch off and pause.
The Camping and Caravanning Club
Camping holidays are a great option for you and your pet – offering the perfect opportunity to enjoy a relaxing stay with plenty of leisurely walks and days out.
The Camping and Caravanning Club has 8 beautiful pet friendly sites across the Peak District, each one providing unique and memorable ways to enjoy this magnificent region, at Teversal, Alton, the Star, Conkers, Ashbourne, Leek, Bakewell , Hayfield and Crowden.
Whether you're looking for a long weekend away from city life, or looking for a campsite with great access to some of the best local dog friendly spots, you'll find the perfect place for a four-pawed adventure.
Find out more about The Camping and Caravanning Club
Business Directory Alton, The Star Camping and Caravanning Club Site
Close to the rolling hills of the Peak District National Park, our Club Site at Alton, The Star offers plenty of choice when it comes to heading outdoors. The site is located a mile from Alton Towers theme park.
Dovestone Holiday Park, Greenfield
Bordering the beautiful Peak District National Park, just 3 miles from the iconic Pennine Way long-distance walking route and nestled atthe foot of the beauty spot of Dovestone reservoir, these charming two bedroom lodges offer stunning moorland scenery, cosy facilities including hot tubs, and a wealth of outdoor activities including walking, cycling, sailing, fishing, bird watching.
Find out more about the Dovestone Holiday Park
Business Directory Dovestone Holiday Park
Dovestone Park borders the beautiful Peak District National Park, is some 3 miles from the Pennine Way and nestles at the foot of Dovestone reservoir with its spectacular scenery and walks. It is here that you will find true countryside luxury
Broomyshaw Country Cottages
Fancy an escape to the country? These pet-friendly cottages just outside of Winkhill in the Staffordshire Peak District have all been awarded TripAdvisor Certificates of Excellence. There's a host of things to do without even leaving Broomyshaw Farm. Maybe just enjoy the fantastic countryside views, take in the peace and quiet, or venture down to the two acre play safe field where there are goals, basketball nets and picnic benches. You may even run into the ducks, fancy chickens or Elliott, the pet pony
The Devonshire Arms at Beeley
If you're looking for picture-perfect walks coupled with tasty pub food, the Devonshire Arms at Beeley has it all. Located on the world-famous Chatsworth Estate, this charming dog-friendly inn sits in the heart of a sleepy village. Stylish and contemporary interiors designed by the Duchess of Devonshire are complemented by all the charm and character of this a village pub, with vibrant fabrics, striking artwork and a modern, glass-sided brasserie contrast tastefully with the oak beams, large fireplaces, and flagstone floors of the original inn.
After working up an appetite on one of the many scenic walks nearby, you can enjoy some fine dining from the modern British menu that champions the finest local and seasonal produce sourced from the Chatsworth Estate and nearby farms (dogs are welcome in the bar area).
Find out more about The Devonshire Arms
Business Directory The Devonshire Arms at Beeley
Just a short walk from Chatsworth House, this Inn and its 18 beautiful en-suite bedrooms blend an idyllic village setting with contemporary comfort.
Booked your stay? Want to see more dog friendly content?
Then head over to our Dog Friendly section to see all the things to do, places to eat and places to go with your furry friend.
You might even find a few dog friendly offers from time to time.
Sign up to our newsletter
Receive the latest news, special offers, ideas and inspiration straight to your inbox by signing up to the Visit Peak District & Derbyshire e-newsletter.