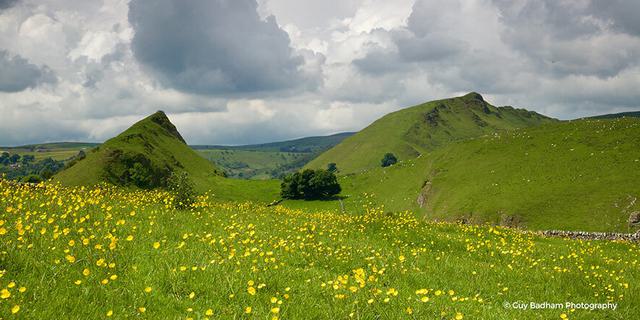 Business
Parkhouse and Chrome Hill
Parkhouse Hill and Chrome Hill are amongst some of the most distinct and recognisable hills in the Upper Dove Valley of the Peak District
---
---
About
Parkhouse Hill and Chrome Hill are amongst some of the most distinct and recognisable hills in the Upper Dove Valley of the Peak District, located just north of the River Dove which forms the Staffordshire/Derbyshire border.Commonly known as the 'Dragon's Back', the rugged curve of Chrome Hill is said to resemble the 'plates' along the spine of a stegosaurus dinosaur. The views from the top are especially breathtaking!Chrome Hill and the slightly smaller Parkhouse Hill are limestone reef knolls, former coral reefs which formed around 340 million years ago! Unsurprisingly, these ancient hills make for a magnificent Peak District walk and there are several brilliant routes that take in the famous Dragon's Back ridge.One of the best places to start a walk near Chrome Hill is the 'Quiet Woman' pub in the village of Earl Sterndale, near Buxton.This area of the Peak District is much loved by photographers, and the serrated ridge of the Dragon's Back makes a brilliant backdrop to landscape photographs in any season. Whether you're shooting from the bottom of the hills looking up, or from the top of one of the hills looking out onto the spectacular natural landscape below, these picturesque 'mini mountains' are a magnificent sight to behold.The hills are designated a Site of Special Scientific Interest by reason due to the wide range of limestone flora found here, including the rare Jacob's Ladder plant (Polemonium caeruleum).
Sign up to our newsletter
Receive the latest news, special offers, ideas and inspiration straight to your inbox by signing up to the Visit Peak District & Derbyshire e-newsletter.