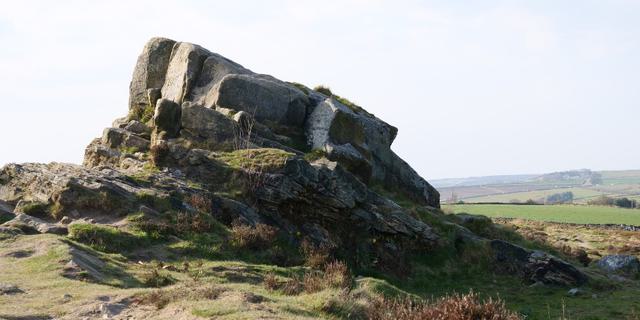 Trails
Ashover walks - 'A Seat with a View' and Ashover Rock
Explore the countryside in and around Ashover Village.
---
---
---
About
You can find ten locally made seats have been placed in special places within Ashover Parish. The seats are all in quiet areas, most with stunning views.
The seats are made and assembled by Bolsover Woodland Enterprises, who source the wood locally and make and construct the seats on site.
Alternatively from Ashover Parish Hall Carpark, a 4 mile circular walk around Ashover explores the countryside around the village. You can climb up to the Ashover Rock viewpoint, have a rest and enjoy the views of the Parish.
Get here on the bus: Ashover is served by the Stagecoach X17 bus service, which runs from Sheffield and Chesterfield to Matlock up to every 30 mins, and also stops at Matlock Bath, Cromford and Wirksworth hourly, 7 days a week.

Trail directions
---
Step 1
Near Hazelhurst Farm with views towards Chesterfield – Footpath 7.
---
Step 2
High Ashes Farm, looking towards Hardwick Hall – by Footpath 6 and a concessionary path.
---
Step 3
Alton - by Footpath 139 on Alton village land.
---
Step 4
Off Vernon Lane near Kelstedge - on Footpath 121.
---
Step 5
Eddlestow Lot - Near to the car park on Footpath 94, with sweeping views down and Across Ashover.
---
Step 6
Ravensnest - Near to where Footpaths 133 and 134 join. Spectacular views across towards The Fabrick and in every direction.
---
Step 7
Trinity Farm, Highoredish - on Footpath 163. Wide views looking down to Ogston Reservoir and much further.
---
Step 8
Above Ashover Mill, with views looking down to the village of Ashover – on Footpath 58.
---
Step 9
On the side of The Fabrick -on open access land near Footpath 30. Classic views down and across the valley which contains Ashover.
---
Step 10
By the side of Goss Hall, with views down to Butts Quarry- on Footpath 54.
---
Sign up to our newsletter
Receive the latest news, special offers, ideas and inspiration straight to your inbox by signing up to the Visit Peak District & Derbyshire e-newsletter.