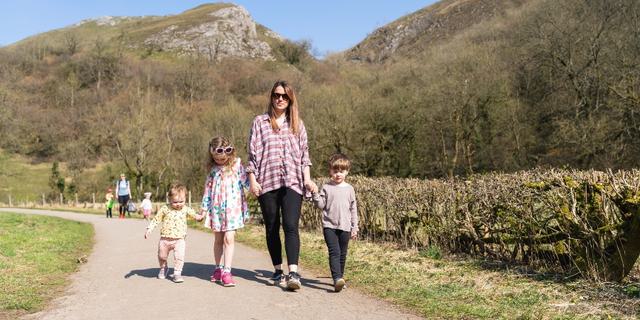 Trails
Manifold Way
A favourite for walkers, cyclists and horse riders.
---
---
---
About
The Manifold Way (also known as the Manifold Track) is a favourite for walkers, cyclists and horse riders.
It follows the route of the disused Leek and Manifold Light Railway, through the Manifold and Hamps Valleys from Hulmes End to Waterhouses. The track is surfaced and fairly level throughout its length, making it ideal for wheelchair users, those with buggies or prams and people with limited mobility. Watch out for the rivers of the Manifold and Hamps as they disappear beneath the porous limestone and reappear in Ilam Country Park. Climb the steps to Thor's Cave (250 ft above the track) for magnificent views across the valley.
There are Car Parking areas at both ends of the track and at Intermediate locations. Cycles can be hired at Hulme End where there are picnic tables, cycle racks and fully accessible toilets.
The full Mainfold Way runs for 8 miles, but a short 2 mile accessible walk includes the disappearing stream and Thor's Cave is a great family friendly option.
Download the pdf above for this shorter walk.
Trail directions
---
Step 1
Starting at Hulme End where you will find a Visitor Centre and Cycle Hire providing direct access to the track. Travel down the Maniford Valley alongside the River Manifold towards Ecton.
---
Step 2
Ecton is home to the Ecton Copper mine which was the source of the 5th Duke of Devonshire's fortune and was the deepest mine at the time. Continue along the trail to Whetton Mill.
---
Step 3
Whetton Mill is a pretty village where you'll find a tea rooms for refreshments before continuing down the trail towards Thor's Cave.
---
Step 4
Thor's Cave (also known as Thor's House Cavern and Thyrsis's Cave) is a natural cavern reached by an easy stepped path from the trail, it is a popular tourist spot, with stunning views over the Valley.
---
Step 5
Next stop is Weags Bridge a pretty stone bridge that spans the River Manifold, a good stop for a photo.
---
Step 6
The trail ends at Waterhouses the village at the southern end of the Manifold Way.
---
Sign up to our newsletter
Receive the latest news, special offers, ideas and inspiration straight to your inbox by signing up to the Visit Peak District & Derbyshire e-newsletter.