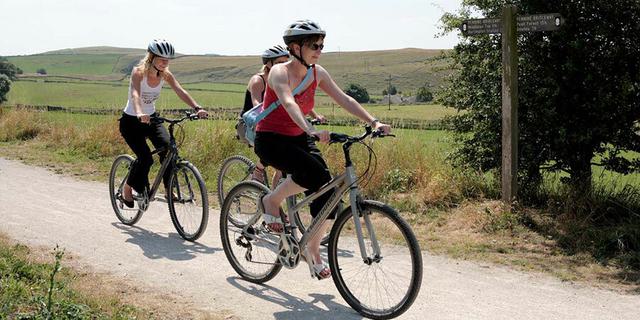 Trails
Tissington Trail
A popular Peak District route running for 13 miles from Ashbourne to Parsley Hay where it is joined by High Peak Junction
---
---
---
About
The Tissington Trail runs for 13 miles from Ashbourne to Parsley Hay where it is joined by High Peak Junction. The High Peak and Tissington Trails were formerly the Cromford and High Peak and the Ashbourne to Buxton railway lines. You can walk, cycle or ride a horse on the trails all year round. Download pdf below.
Trail directions
---
Step 1
A brilliant bike ride or perfect setting for a leisurely stroll, hire bikes from the Bike Barn and head along this beautiful traffic free trail.
---
Step 2
The trail takes you to Tissington - a perfect picture book village with beautiful cottages built around a noble old hall, fine church and duck pond. Whichever way you enter Tissington you get a pleasant surprise for this village is as near to a rural idyll as you can get.
---
Step 3
The trail takes you past the pretty village of Thorpe, the summit of the famous Thorpe Cloud is a stiff walk from the village.
---
Step 4
The next village along the trail is Hartington, home to Hartington Hall now a YHA hostel.
---
Step 5
Finally the trail ends at Parsley Hay where you'll find facilities including a cycle hire.
---
Sign up to our newsletter
Receive the latest news, special offers, ideas and inspiration straight to your inbox by signing up to the Visit Peak District & Derbyshire e-newsletter.