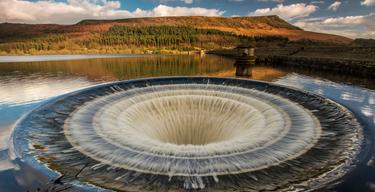 Top locations for landscape photography in the Peak District and Derbyshire
Derbyshire and the Peak District National Park have some of the best locations for landscape photography in the country.
The Derbyshire countryside and Peak District National Park are bursting with Instagrammable places and photography opportunities. There are deep valleys, remains of a coral reef, beautiful ravines and some truly expansive views. There're so many diverse and different places to capture in the Peak District but we thought we'd start you off with the top ten locations for landscape photography in the Peak District, just as a starting point…
1. Winnats Pass
Whether it's the dramatic views from the top or the winding road below, Winnats Pss has to be of one the most photogenic parts of the Peak District. This limestone gorge was once, hundreds of millions of year ago, completely submerged under water, which is one of the reasons why it has such a unique feel to it. The craggy rocks and vast valley below make for some seriously dramatic shots.
This viewpoint captures the natural beauty of the Peak District perfectly, it's a place that allows photographers to capture expansive, dramatic or even whimsical shots.
Winnats Pass is best accessed from the village of Castleton, where there's a pay & display car park at the Visitor Centre and great places to eat and drink.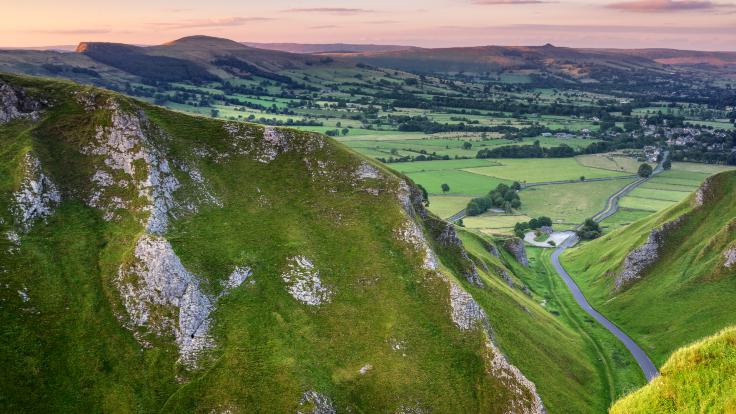 2. Chrome Hill and Parkhouse Hill
Photographing Chrome Hill and Parkhouse Hill will never give you 'average' landscape photographs. No matter what level your skills are, this rugged yet breathtaking part of the National Park will practically hand you great photos itself!
There's something in the fact that this was once a coral reef hundreds of million years ago, so its staggered shape is truly spectacular and completely different from most landscapes.
For parking, head to the village of Earl Sterndale, near Buxton. It's a really small place so if you can see the Quiet Woman pub, you're in the right where you need to be, as the walk starts just over the field behind. Follow directions for Earl Sterndale, Buxton, Derbyshire, Buxton SK17 0BU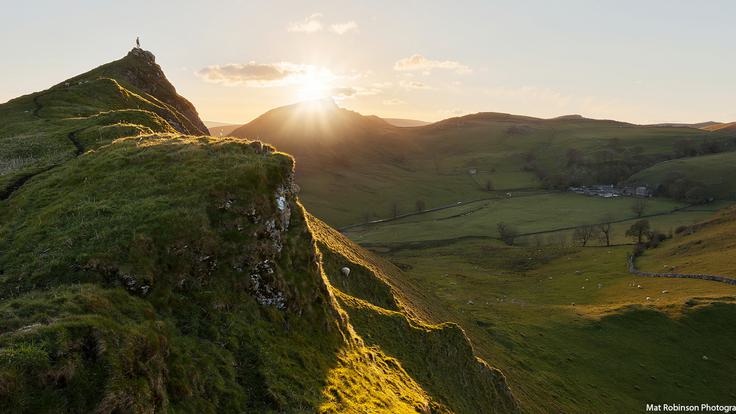 3. The Trinnacle, Saddleworth Moor
Saddleworth Moor is another spot that landscape photographers will love. The expansive, rustic moors with the reservoirs in the distance make for dramatic photos.
Walking from Dovestone Reservoir, it is a trek to get to the ultimate spot, a rock formation known as 'The Trinicle', but it's worth it. The Trinnacle gives an amazing and unique focal point for your landscape photography. Dovestone Reservoir is a 20 minute drive from Oldham and only a 50 minute drive from the centre of Manchester itself, making it ideal for city-dwelling photographers. There's a big pay & display carpark there too.
4. The Great Ridge, Mam Tor
Mam Tor is one of the most iconic beauty spots in the Peak District, with the 'classic' shot being the Great Ridge's gate and fence, with the sweeping landscape of Mam Tor and the famous path leading on.
The easiest place to park for shooting here is Mam Nick car park (post code: S33 8WA), as from there it's just a short (but steep) walk straight up to the summit. The Great Ridge has amazing views of the Hope Valley, and depending on when you arrive, chance of catching the atmospheric morning mist. But if you're really lucky, and get up with the birds, there's a chance you'll get to see a cloud inversion.

From Mam Tor it's possible to walk down into Cave Dale (another fantastic place to photograph) and onto Castleton, another great place for Peak District photography.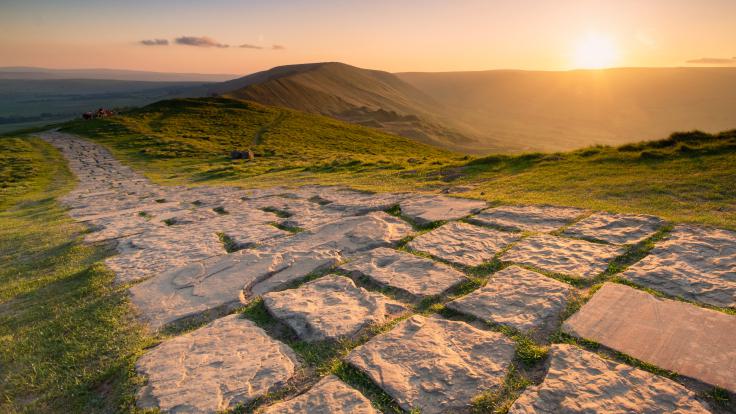 5. Dovedale, Ashbourne
Unlike the three locations mentioned before, Dovedale is a great place to photograph if you'd prefer not to or are unable to hike up to great heights. This easily accessible ravine is a beautiful part of the Peak District, with loads of interesting aspects to capture.
The main attraction are the stepping stones of Dovedale, which are highly loved and photographed, but there's also the path along the River Dove, Thorpe Cloud (which does give fantastic views of the ravine below if you can climb to the top), Reynard's Cave, and many other unique quirks and charms along the way!
There's a pay & display car park at Dovedale, which can be found using this postcode: Ilam, DE6 2AY
6. Ladybower Reservoir
Ladybower Reservoir is another location that you needn't hike for hours to get great photos. Being one of the Upper Derwent Valley reservoirs, this part of the Peak District is one with loads of artistic potential for photographers. There's Ladybower's famous plughole, the reflection of the sunken viaduct on the still water, not to mention the masses of woodland surrounding the trio of reservoirs.
To take photos of any of the Upper Derwent Valley reservoirs or surrounding woodland, there's a pay & display car park at Fairholmes Visitor Centre. From there you can either walk down to Ladybower (which you would have passed on your way to the visitor centre), or follow signs for Derwent Dam to get to Howden.

Fairholmes Car Park & Visitor Centre can be found using this address: Hope Valley, S33 0AQ.
7. Curbar Edge
Curbar Edge is a great place to photograph the green patchwork-quilt that is the Derbyshire countryside, and the edge comes with a view that changes with the seasons.
If you visit in late August or September you'll be able to capture the purple heather in all its glory, but sunrise always makes for stunning photography across Curbar Edge and Curbar Gap, no matter what the season.

There's a car park at Curbar Gap (post code: S32 3YR), just a stone's throw away from Curbar Edge and some of the best views are available here.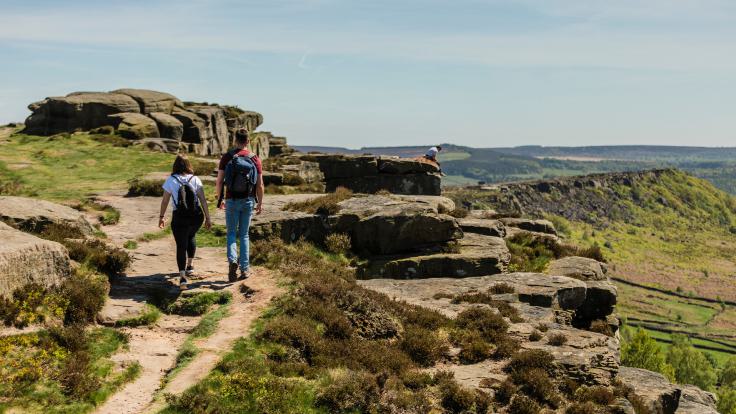 8. Higger Tor
Higger Tor on the Longshaw Estate, although beautiful to photograph all year round is especially magical in late summer, when the Heather's in bloom. Higger Tor itself is a gritstone outcrop, one that's easily recognisable and adds great depth to photographs, combine that with a few discarded Millstones across the landscape and you've got a classic Peak District shot!
A good car park for Higger Tor is Surprise View (S32 1DA), which allows you to photograph the interesting landscape leading up to it as well as the main event!
Higger Tor is also accessible from the Longshaw Estate Car Park (S17 3BJ), which will take you via the very pretty Padley Gorge. There's trees and a stream, making it the perfect place for an Autumn shoot – it's also more of a family-friendly place to start!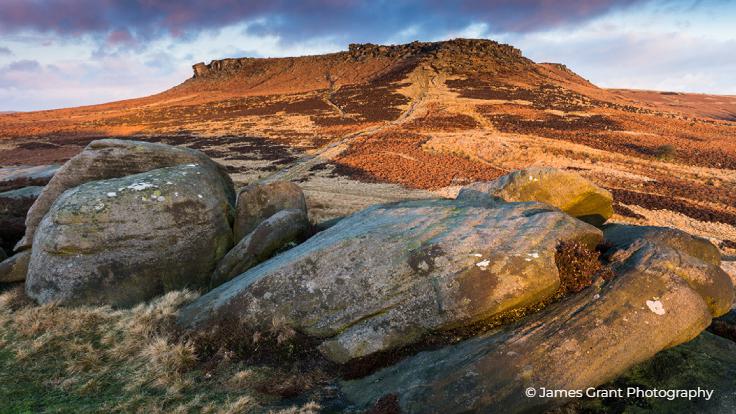 9. Kinder Scout
As the highest point in the Peak District, Kinder Scout boasts unforgettable views, unique moorland and even a waterfall. This breathtaking moorland plateau is a walker's and photographer's paradise: at 2,087ft above sea level, it offers some of the most breathtaking views in the country, where you'll encounter sweeping panoramas, gentle streams, dark gritstone, steep rocks to scramble up, unique peat and the glorious Kinder Downfall.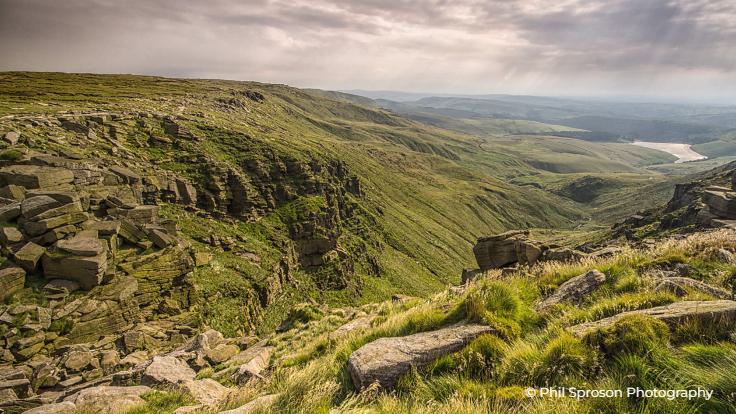 Sign up to our newsletter
Receive the latest news, special offers, ideas and inspiration straight to your inbox by signing up to the Visit Peak District & Derbyshire e-newsletter.