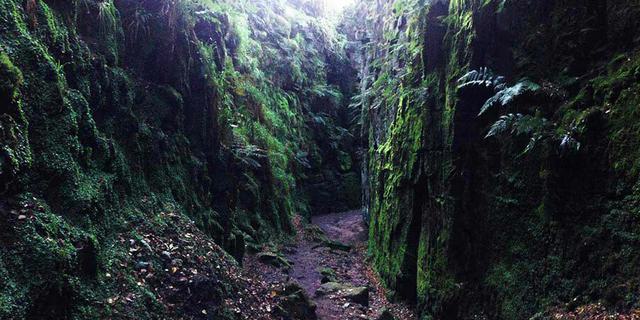 Business
Lud's Church
Lud's Church is a deep, moss-covered chasm full of history, myths and dark green wherever you look; and to walk down its stone steps deep into the cleft is to escape into another world…
---
---
About
Things to do at Lud's Church in the Peak District & Derbyshire

Lud's Church is a deep, moss-covered chasm full of history, myths and dark green wherever you look; and to walk down its stone steps deep into the cleft is to escape into another world…
Close to the Roaches in Leek and through Staffordshire's Back Forest, is Lud's Church. An 18 metre deep chasm created in the Roaches' gritstone caused by a giant landslip, which over the ages has been covered from top to bottom in vibrant moss. This makes the entire chasm outstanding to walk through, the dampness, the deep green colour has suddenly replaced the bright and expansive landscape of the Roaches, and it almost seems unbelievable. It doesn't take long to explore the chasm, as it is only 100 metres long, but you could spend forever studying every nook and cranny- each as unique as each other.
Lud's Church is not only interesting from a nature viewpoint, it's also know for it's history as in the Fifteenth Century it was used as a secret place for worship for people who would have otherwise been prosecuted. The people using this deep chasm as a church were the Lollards, followers of the early church reformer and so-called 'heretic', John Wycliffe.
Other than Luds Church's religious history, there are also some myths that come with the area. One of our favourites is that Robin Hood and Friar Tuck are reputed to have stayed in the cleft whilst hiding from the authorities. Going further back into the depths of Lud Church's history is a myth that the chasm was created by the devil's finger nail as he scraped back parts of the earth.
Lud's Church is accessible via the Roaches, and the Back Forest and via Gradbach.
Experiences
Experiences powered by Beyonk
Sign up to our newsletter
Receive the latest news, special offers, ideas and inspiration straight to your inbox by signing up to the Visit Peak District & Derbyshire e-newsletter.