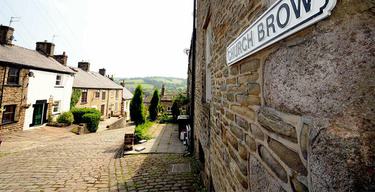 Chapel-en-le-Frith
Historically kown as the 'Capital of the Peak', the quaint village of Chapel is brimming with history.
Chapel-en-le-Frith nestles within the dramatic landscape of the Peak District providing a welcome respite from the moorland peaks with its acclaimed restaurants, traditional pubs, shops and fascinating history.
The town grew up around the church, built in 1225, and as a key local administrative centre became known as the 'Capital of the Peak'. Highlights in the old town include 18th century Church Brow and the traditional Market Place, with stocks and ancient cross.
All parking within the town is free.
Chapel is home to one of the Peak District's principal traditional carnivals, (June); one of Derbyshire's largest well dressing festivals (July); traditional May Day in the Market Place and hosts other events such as Proms in the Park (Aug).
The popular Old Town Trail is a free self guided walking trail of Chapel's historic centre, featuring the 13th Century Church of St. Thomas Becket where 1,500 Scottish soldiers were imprisoned and starved during the Civil War; 18th Century Church Brow and the traditional Market Place with stocks and ancient cross.
Trail leaflets available at local outlets. The Memorial Park has picturesque grounds with a kickabout area, skateboard/BMX ramps, basketball hoops, bowling green and children's playground.
Chapel-en-le-Frith's acclaimed 18-hole Golf Course welcomes visitors to play. If it's wet outside then visit the Leisure Centre with saunas, steam rooms, indoor and outdoor facilities and fully equipped gym, visitor day-passes available.
On a clear day why not climb up Eccles Pike, a short 1.5-mile walk from the town centre which has a 360-degree panorama and its unique sculptured topography allows visitors to view all major Dark Peak summits.
Sign up to our newsletter
Receive the latest news, special offers, ideas and inspiration straight to your inbox by signing up to the Visit Peak District & Derbyshire e-newsletter.