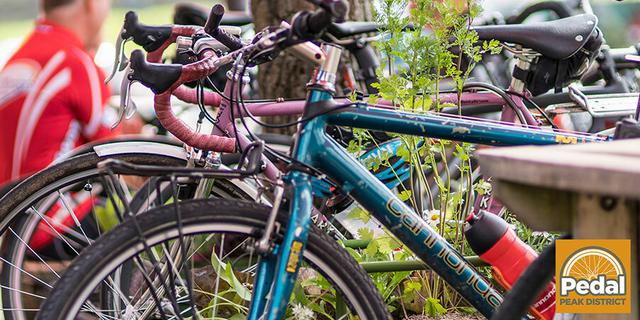 Trails
Matlock Cycle Routes - Up Hill and Down Dale
Discover a landscape full of heritage with breathtaking views.
---
---
---
About
Discover a landscape full of heritage with breathtaking views. This route is available to download as a PDF and GPX file at the bottom of this page.
Start/End Point: Matlock railway station Distance: 24km/15miles Ascent: 480m/1575ft Grade: Hard 100% road Cafes: Matlock, Cromford, Pubs: Matlock, Holloway, Lea, Cromford, Starkholmes Shops: Matlock, Holloway, Cromford
This route was developed as part of the Pedal Peak for Business initiative, funded by the European Regional Development Fund.

Trail directions
---
Step 1
Cross Derwent Way via the crossing. Cross the River bridge. Turn left at the Crown Square roundabout towards Bakewell.
Turn right onto Dimple Rd and begin a sustained steep ascent, continuing up Hurds Hollow.
---
Step 2
Just after the school, turn right at a T-junction up Old Hackney Lane, then turn left up Farley Hill. Pass Tax Farm. Turn right following brown sign for Matlock Farm Park onto Jaggers Lane (caution: take care at blind bend on turn).
---
Step 3
At a crossroads, turn right onto a long straight road. Turn right onto the A632 towards Matlock. Take care as busy road. Turn left onto Lant Lane. After a garage, as the roads bends sharp right, Turn left onto Allen Lane.
---
Step 4
Turn right at T-junction. Pass café then cross over a staggered junction onto Lickpenny Lane. Take care as you cross the A615 onto High Lane (towards Holloway).
---
Step 5
Turn right at the crossroads. Bend right and descend steeply to Lea. Bend left and down past Smedley's Mills to T-junction. Turn right towards Cromford passing Cromford railway station.
---
Step 6
Turn right (sharply) onto Willersley Lane. Rise steeply uphill to Starkholmes. Pass the White Lion public house then descend steeply to the A615 (beware speed humps near school and parked cars).
---
Step 7
Turn left along this busy road. Turn left opposite the Cricket Club into Knowleston Place. Turn right by a children's play area onto a tree-lined path through Hall Leys Park to the start.
---
Sign up to our newsletter
Receive the latest news, special offers, ideas and inspiration straight to your inbox by signing up to the Visit Peak District & Derbyshire e-newsletter.