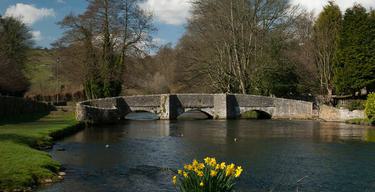 Ashford in the Water
One of the Peak District's most picturesque villages and most photographed bridges.
Things to do at Ashford in the Water in the Peak District & Derbyshire

Picturesque Ashford in the Water's much-photographed medieval Sheepwash Bridge has been named by national tourist board VisitEngland as the best location in the country to play the popular family pursuit of Poohsticks.
Winnie the Pooh favourite game of floating sticks on fast flowing rivers is the perfect pastime on Ashford's pretty focal point, spanning the river Wye just north of Bakewell.
No less than three bridges cross the river in this charming village, full of character in an idyllic setting. Sheepwash Bridge, as its name suggests, was used by farmers to drive their flocks into the water to wash them, and you can still spot the small walled enclosure used to pen sheep on the river's broad, grassy banks.
With its lovely limestone cottages and beautifully-tended gardens, it's now hard to imagine that the village was once the centre of production for Ashford Black Marble, extracted from both quarries and mines in the area. You can see fine examples in the small church of Holy Trinity, and also in the Boyd Dawkins geological collection at Buxton Museum and Art Gallery (due to re-open in spring 2017).
Villagers roll up their sleeves in early June to create living art works made of natural materials during the Peak District and Derbyshire's unique annual Well Dressing celebrations, which include Holy Trinity Church.
When it comes to eating and drinking, there's plenty of choice, thanks to a hotel/restaurant, two pubs (one with rooms) and a traditional English tea room, as well as a well-stocked village shop.
If you fancy some leisurely walking or cycling, there are good links with the traffic-free Monsal Trail, and make a beeline for nearby Monsal Head for views to take your breath away. Or while away a lazy summer afternoon watching local teams play cricket in traditional whites in a picture book setting on Ashford's riverside pitch
Sign up to our newsletter
Receive the latest news, special offers, ideas and inspiration straight to your inbox by signing up to the Visit Peak District & Derbyshire e-newsletter.