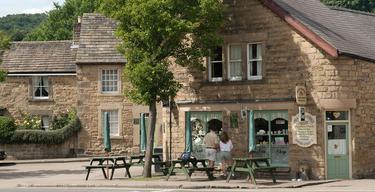 Eyam
Discover the fascinating true-story of the Peak District's 'Plague Village'.
Step back in time in the atmospheric setting of Eyam, known to visitors and residents alike as the 'Plague Village'.
Immerse yourself in the incredible story of its unselfish villagers, who sealed themselves off from the outside world in the 17th century to prevent the deadly disease from spreading to neighbouring communities.
Trace the fascinating tale of how the Plague was brought to the White Peak village in a bolt of infected cloth from London in 1665, taking in key locations such as the church of St Lawrence, Plague Cottages, Cucklet Delf and - just outside the village - the Riley Graves and Mompesson's Well. You can also find out more at Eyam Museum, open from March to November.
In the heart of the village you'll find historic 17th century Eyam Hall, which was built just six years after the Plague subsided and was home to the Wright family for more than 11 generations.
Next door you'll find a courtyard with a craft centre selling everything from Hartington cheese to handcrafted jewellery, while The Buttery serves light refreshments and lunch.
Opposite the hall are the village stocks, mainly used by Eyam's Barmote Court to regulate the wrong-doings of local lead miners.
The nearby church of St Lawrence dates back to Saxon times and has an original font and Norman pillars, thought to rest on Saxon foundations. The oldest and most striking feature of the churchyard is its eighth-century Celtic Cross. One of the best preserved examples of its kind in the country, it is decorated with a mixture of Christian and pagan symbols and may have once been a wayside preaching cross.
Sign up to our newsletter
Receive the latest news, special offers, ideas and inspiration straight to your inbox by signing up to the Visit Peak District & Derbyshire e-newsletter.