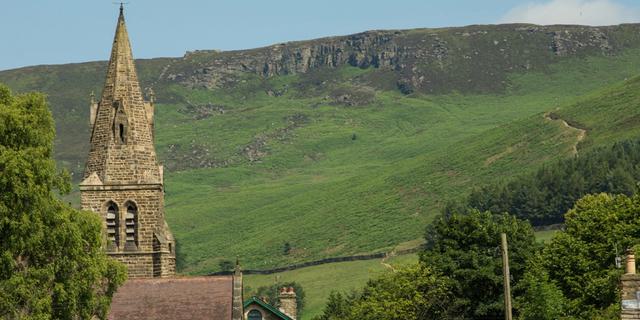 Location
Welcome to Edale
Nestled in the Hope Valley in the heart of the Peak District National Park, Edale marks the start and end of the Pennine Way
Edale is a small village at the start/end of the UK's first and most famous long distance walking path, the Pennine Way.
The village itself grew from the herdsmens' shelters or 'booths' at what are now the hamlets of Upper Booth, Barber Booth, Ollerbrook Booth and Nether Booth. The central 'booth' was Grindsbrook Booth, now usually called Edale Village.
The village has two popular pubs, a café and local shop. The village has a railway station on one of England's most spectacular railway routes: the Manchester to Sheffield train line. There are two camping sites in Edale as well as others in outlying 'booths'.
Nearby is Castleton, one of the most beautifully-situated villages in the Peak District. Another beautiful village to visit in the area is Hope, where the River Noe and Peakshole Water meet, with a range of hills to the north including Win Hill and Losehill.
In The Area
Business
Enjoy some of the most magnificent scenery in the Peak District from the sitting-room window. Detached, All rooms ground level, with en-suite…
---
Business
Recently converted farm cottages with stunning views over the Hope Valley. Superbly equipped, original beams and features. Situated in an historic…
---
Business
Specialists in mountain adventures on the water, underground and in the hills of the Peak District National Park.
---
Offers
Special Offer
Explore with our guided micro-adventures for individuals and small groups.
---
Villages nearby
Bamford
Bamford is an attractive village and popular visitor destination close to walking routes and the reservoirs.
Sign up to our newsletter
Receive the latest news, special offers, ideas and inspiration straight to your inbox by signing up to the Visit Peak District & Derbyshire e-newsletter.